Show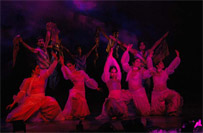 Sadhya
Sadhya – one of the leading contemporary dance academies of India – has been working in the field of dance, in and out of the country, ever since its inception in the year 1998.
Under the able guidance of its Creative Director – Santosh Nair – it has created a style of its own – bridging both tradition and modernity. Be it Dance Festivals, Corporate shows or International Collaboration Projects – Sadhya – has carved out a niche for itself.
Today – it is a reflection of a special blend of art and entertainment.

Tunvey Gogia
Host
Tunvey Gogia is well-known as Topper Channel's resident Career Analyst. An MBA by qualification, she is fiercely dedicated towards helping young people manage their career related decisions with ease and insight. She has worked in the media for over a decade - past anchoring roles include an entertainment news show called "Cut" for NDTV Goodtimes and a daily talk show called "This Delhi Life" on NDTV Metronation - and has been particularly active in highlighting youth-centric issues.
Event Partners
Media Partners