World Travel Awards serves to acknowledge, reward and celebrate excellence across all sectors of the global travel and tourism industry.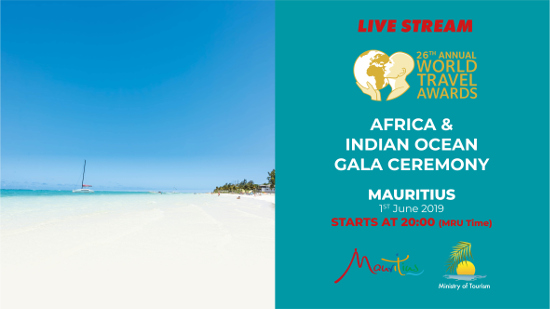 Watch WTA Africa & Indian Ocean Gala Ceremony live
Find out all the winners as they are unveiled live from Mauritius, 8pm 1 June.

Madeira to welcome World Travel Awards in 2019
Madeira has been revealed as the host for the World Travel Awards (WTA) Europe Gala Ceremony 2019. The Portuguese destination, which has taken the title of Europe's Leading Island Destination for the past five years, will use the event to boost its profile on the international stage.

Arabia's finest travel brands revealed at World Travel Awards in Abu Dhabi
Abu Dhabi is reinforcing its standing as a world-class events destination as it steps up to host the most important night of the year for the Arabian travel and tourism industry. The World Travel Awards Middle East Gala Ceremony 2019 will take place at Warner Bros. World™ Abu Dhabi on Thursday 25 April, with the key players and VIPs from across the region attending.

Bolivia to host WTA Latin America Ceremony 2019
World Travel Awards has revealed that its Latin America Ceremony 2019 will be hosted in La Paz, Bolivia on 13th July 2019. The leading figureheads, decision-makers and influencers of Latin America's travel and tourism industry are scheduled to attend the ceremony, which will mark WTA's first visit to Bolivia.
Island Records founder Chris Blackwell honoured at World Travel Awards in Jamaica
The music and hospitality pioneer, Chris Blackwell, has been honoured at a star-studded gala ceremony in Montego Bay, Jamaica. The founder of Island Records and Island Outpost was acknowledged with the "Lifetime Achievement Award" at the World Travel Awards Caribbean & North America Gala Ceremony 2019. The red carpet evening, which was hosted at Sandals® Montego Bay, marked the opening leg of the WTA Grand Tour 2019 – an annual search for the finest travel and tourism organisations in the world.

26th annual World Travel Awards opens for submissions
World Travel Awards is pleased to announce its annual "call for entries" for inclusion in the most prestigious awards and recognition initiative in travel and tourism. Each country's very best brands and products are now invited to submit their applications to participate and stand a chance to win the ultimate industry accolade.
World's finest travel brands revealed at World Travel Awards Grand Final 2018 in Lisbon
The finest travel brands in the world have been unveiled at a star-studded gala ceremony in Lisbon, Portugal. The elite of the travel industry gathered for the World Travel Awards Grand Final Gala Ceremony 2018 at the historic Pátio da Galé to find out who amongst them had been crowned the finest in the world.