Show
Umoja
A musical theatre that transports the audience into the history of South African music and dance. Showcasing traditional love songs, lullabies and other musical expressions of rural life, the audience has cried along to the music reflecting the pain of the migrant labourers and their families. The tale dances through shebeens and the cultural melting-pot of Sophiatown. The heart is saddened by cold stories of forced removals yet the feet continue to stomp along with the explosions of gumboot dancing.
Despite its occasional moments of reflection and pathos, UMOJA is a loud, colourful and jubilant celebration of life that is infectiously delightful and uplifting.
The 50 piece cast is made up of South African cultures and has its own touching story to tell. The cast have all come from poor backgrounds and have never had previous exposure or training. Most of the cast were street kids from Soweto and untrained artists from the townships.

Trevor Noah
Trevor has been performing for a little over 2 years but is already recognised as one of the top comedians in the country. His sharp wit, intelligent commentary, unmistakable charm and clinical delivery have made Trevor Noah a very popular performer in South Africa.
Career highlights include opening for international superstar Russell Peters on his South African Tour, charming audiences with his comedy opening for Julio Iglesias and being the only comedian in South Africa to have made the cut for the international audition of NBC's Last Comic Standing.
Also chosen to represent his country as the only local act at the Jozi International Comedy Festival, Trevor earned rave reviews.
He has recently been booked to perform at the biggest festival in the country - this year's instalment Cape Town International Comedy Festival in the Main Arena.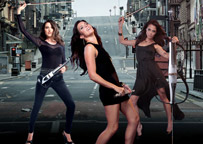 Sterling EQ
Instrumental pop supergroup Sterling EQ has taken the entertainment industry by storm with their genre-defying musical style and sensational live performance.
Sterling has proved to be one of the most successful instrumental bands ever to come out of South Africa, through the extensive media coverage they've enjoyed and performing on the stages of coveted events such as the South African Music Awards (SAMA's), the opening of Cape Town stadium, FIFA Final Draw party in Long Street, and IPL Cricket Tournament opening. They've shared stages with icons such as Boney M, Snow Patrol, Johnny Clegg, Parlotones and Soweto Gospel Choir, and have entertained local and international celebrities to the likes of Elton John, Annie Lennox, and Lance Armstrong, to name but a few.
Sterling EQ will perform a selection of crowd pleasing melodies and show stoppers.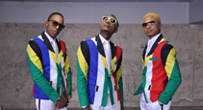 Kwela Tebza
A force to be reckoned with, Tebogo, Tshepo and Mpho have managed to harbour the spirit of Kwela music from days gone by and give the genre the vibe of now, making it possible for them to stay true to the sound and still move the music forward.
Their unavoidable and irresistible stage presence has also made them one of the acts to look out for around world stages from Singapore to Australia, Brazil and back home in South Africa. They have left audiences astounded and earned praise from their peers.
They have appeared at many prestigious events including; the South African Music Awards, The Mzansi Awards and the FIFA 2009 Confederations Cup opening ceremony, to name but a few.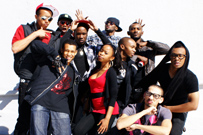 Clinch Crew
Holding the number one title as 'best hip hop crew' in South Africa, the Clinch Crew are known for their diverse dance style and unique performances. Combining break dancing, acrobatics, new school, old school and recently krumping, the crew are taking street dance to its most commercial heights.
Founded by Mernoly Simba, Junior (Jay) and Olie Kayembe in 2004, they have worked alongside South Africa's best entertainers and have shared a platform with international artists such as: HHp, G.I, Skwatta Kamp, Jamali, Pro Kid, Missy Elliot, Pharrel, Black Eyed Peas, Sean Paul, the late Lebo Mathosa, The Pyramid, Danny K and Entity.
Soon to be representing South Africa in Las Vegas at the international hip hop championship in July 2010, they have also successfully organised and hosted the largest hip hop dance competition in Africa - 'Masters of Rhythm'.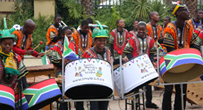 The Soweto Marimba Youth League
In an area where school learners do not have access to formal music instruction, the SMYLe project seeks to use music as a means for teaching disadvantaged youth that hard work and commitment to a common purpose can lead to measured excellence. Their motto is, "Where you get to in life is not a function of where you begin, but rather of how hard you're willing to work to get to where you want to be."
The kids of SMYLe are self-taught, with musicians ranging in age from 6 to 22, learning their craft by ear (only one team member even knows how to read music) and where songs are typically 're-arranged' to include a SMYLe flavour. The team has the capacity to learn a new song in as few as 30 minutes – to performance readiness – and have a repertoire of more than 100 songs.

African Footprint
African Footprint, an explosive stampede of Song & Dance! Celebrating its 10th Anniversary, African Footprint has performed from China, Australia, Europe, Canada to the USA with critical acclaim. Filled with pride, passion and energy, these young artists celebrate the heartbeat of Africa and honour South Africa's past, present and future. A RICHARD LORING PRODUCTION

Gerry Rantseli
Gerry Rantseli has come a long way since her liberation struggle as a teenager on the Cape Flats. In 2001 she was appointed Head of Television and Broadcasting for Allenby Campus, and in 2002 she was master of ceremonies at the International Vaccination Conference, attended by Nelson Mandela. 2006 saw Gerry launching Cinnamon Communications (Learn, Grow and Experience the Essence of Life). She is still one of South Africa's most prominent hosts/MC and uses her public profile to get involved in many social projects.

Michael de Pinna
Born in England, Michael first trained in the hotel business before discovering his true calling – The Stage! Best known for his role as the victim in the series of "Yebo Gogo" advertisements for Vodacom, his experience ranges from musicals and plays to TV appearances and cabaret.
Useful Links
Links relevant to this event:
Event Partner
Media Partners
Participating Media