Show
FUSE
FUSE are virtuoso electric violinists Linzi Stoppard & Ben Lee. Since the release of their album by Universal Music last summer, they have become the world's premier string group.
FUSE are also Ambassadors for The Prince's Trust, and recently performed for Prince William and Her Majesty The Queen. They have gained four million views on YouTube, as well as performing to TV audiences in excess of two hundred million in 2010.
They are also the only string group in the world to perform on Swarovski Crystal violins, worth £1 million each and studded with over 50,000 crystals.
And this year Ben Lee became the three-times Guinness World Record holder for the Fastest Violin Player.
What FUSE do can have a truly global appeal: there are no language barriers. Whilst they are very proudly a string band, listeners can sing along to the choruses that we all know. And their new album, they are bringing their unique brand of entertainment to a whole new audience.
FUSE are at the top of their game!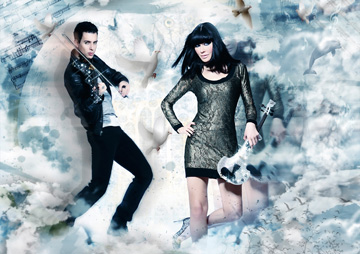 Ece Vahapoglu
Host

Author, Journalist, Columnist, TV Presenter, MC, born in Istanbul, Ece Vahapoglu, graduated from the American University of Rome. She completed her "IEHEI on "EU and International Relations master's degree in France and during this time she was honored as "The Most Outstanding Young Person" in 2001 by JC.
She presented several TV shows on Cnbc-e, Ntv, Skyturk, Cine5 and Atv and is a highly recognized journalist; including making exclusive interviews with top business people and working as a columnist in daily Turkish newspapers.
Ece Vahapoğlu has also been involved in many social responsibility projects. She has four published books three "how to" books and one novel and she speaks Turkish, English, French and Italian.
Useful Links
Links relevant to this event:
Event Partners
Event Media Partners