Venue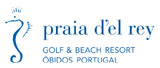 Praia D'El Rey Golf & Beach Resort
www.praia-del-rey.com
Can you imagine a luxury hotel, worthy of a capital city, but overlooking a sandy beach on one of Europe's most serene and natural coastlines. Visualise the luxury rooms, the gorgeous food, the personalised service and the soft rumble of the ocean. Imagine no longer. You are at the Marriott Praia D'El Rey Golf & Beach Resort. For business and pleasure.
Praia D'El Rey Golf & Beach Resort is a multi-award winning resort ranging across 230 hectares (600 acres), on the beautiful shoreline of Portugal's Silver Coast, less than one hour from Lisbon. Located in the beautiful and historic Oeste (or West) region near Obidos, Marriott Praia D'El Rey Golf & Beach Resort sets the standard for accommodation in this region and was the first five-star resort to be built here.
Enjoy remarkable views of the ocean and of the 18-hole championship golf course. Be cooled by Atlantic winds as you lounge on your private balcony, or spend a relaxing afternoon in one of the luxury suites.
Over the last 10 years it has established itself as the pre-eminent resort in the region with facilities including a luxury 5 Star Marriott Hotel with a relaxing and beautiful Spa, award winning golf course and leading sports and children's facilities.
Useful Links
Links relevant to this event:
Event Partners
Media Partners