Show
Angelique Nicolette Teo
Host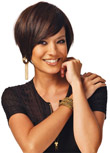 Having been in the industry for two decades, this multi-faceted personality has gone from strength to strength. From a successful modelling career, she moved on to television and radio presenting; producing her own evening drive-time show after just a year.
Today, Angelique's bio reads a mile long with programs airing across more 23 countries on 42 channels. Her current job titles include; host for HBO Asia, host and face of LI (Life-Inspired) TV, host for the Singapore Formula 1 on national TV, scriptwriter, luxury travel-writer and more recently, entrepreneur. She recently launched Asia's first line of moisturizing candles under the label "Amore Essentials". As an accomplished travel writer, she has been coveted by luxury resorts in Thailand, the Maldives and Vietnam. .
With so much on her plate, this jet-setting host continues to be one of the most sought-after presenters across the Asia Pacific region and beyond; having hosted for A-list events that include sharing the stage with the likes of Jackie Chan, Felipe Massa, Marco Pierre White, Lewis Hamilton, Jenson Button ... just to name a few.
Act
The Three Tenors
The Venetian Macao's Three Tenors are the perfect blend of three world-class tenors from around the globe. The Three Tenors are Tomos Griffiths, Loren Geeting and Austine Cesenas. Combined they have performed in over 85 countries, including the world's finest opera houses from Sydney, Australia and Italy's La Scala to The Royal Opera House in London's Covent Garden.
They have performed for royalty, celebrities, heads of state and prime ministers. The Venetian Macao's Three Tenors have been featured at Macao's leading events, including the Macau Tatler Ball, the Sands Cotai Central Opening Gala Dinner, the International Indian Film Academy Awards, the Miss International Beauty Pageant and many more.
The Venetian Macao's Three Tenors combine passion with sophistication while singing the world's most recognizable arias: Nessun Dorma, Nella Fantasia, Time to Say Goodbye, La Donna e Mobile and many more. The Venetian Macao's Three Tenors pay tribute to the original Three Tenors comprised of Jose Carreas, Placido Domingo and of course the incomparable Luciano Pavarotti. The Tenors will take you on a journey of love and romance while they sing the classics.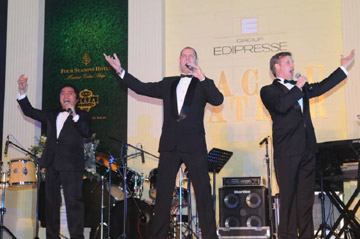 Act
Long Tian Pugilistic Dragon & Lion Dance Troupe
Long Tian Pugilistic Dragon & Lion Dance Troupe was founded together in 1991 by Mr Chan Siak Kin with a group of enthusiasts who enjoyed Dragon & Lion Dance as a social and recreational activity. The award-winning troupe aim to create interest in the ancient Chinese art of lion dance and martial arts.
Besides regular martial arts training and extensive training in the many intricate steps and body movements that form the basis of the lion dance, members of the troupe learn the use of various percussion instruments and their traditional rhythms which accompany the dance.
Long Tian entered their first competitive performance in 1994 and after this occasion, they have actively participated in numerous dragon & lion dance competitions both locally and abroad with outstanding success.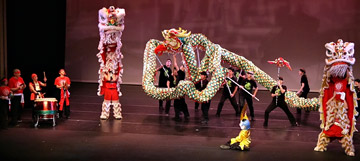 Act
Sri Warisan
Sri Warisan is a performing arts company founded by renowned cultural Medallion recipient, Madam Som Said. Formed in 1997 they are one of the pivotal forces in Singapore's Malay dance scene blending rich traditional forms with contemporary techniques is Sri Warisan's trademark. Its performers are trained to excel in multi-disciplinary art forms such as dance, music, theatre and multi-media.
They have performed in more than 40 international events and festivals and recently conducted an Intensive Traditional Malay Dance & Music workshop for the cast of the Music LION KING (Singapore) at Marina Bay Sands in January 2011 and in Germany in 2012 with other performances including National Day Parade and the Singapore Youth Olympic Games (SYOG).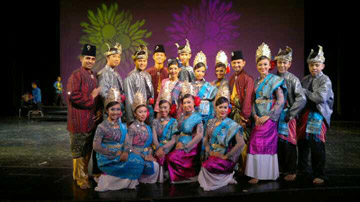 Useful Links
Links relevant to this event:
Event Partner
Host Partner
Event Media Partners