Show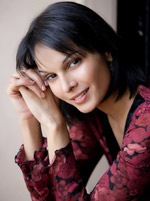 Seema Rahmani
Host
Actress, television host, poet and playwright, Seema Rahmani grew up in Kuwait and the USA before settling in India where she quickly gained critical acclaim through performances in films such as SINS, Missed Call, Loins of Punjab Presents, Good Night Good Morning, Reprise, and Love Wrinkle-free.
Seema earned her widespread recognition through her work in the TV animal show Heavy Petting on NDTV-Goodtimes, and her commitment to increasing awareness for animal welfare and to boost support for animal NGOs across India.
A multi-talent artist, her collection of poems in "Euphoria, A Journey Unravels…" has also been deeply appreciated by India's former president Dr. APJ Abdul Kalam and film industry icon Amitabh Bachchan. She is currently producing an album of lullabies in Hindi, which is graced by well-known and respected vocal artists, scheduled for release in 2014 through Times Music India.
www.seemarahmani.com
Event Partners