Show
Simone Heng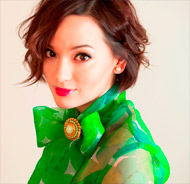 Simone Heng is a Singapore-born Australian TV and radio host. She is a household name in Dubai, garnering unprecedented exposure for a Western female in the Arab world where she is often described as the Ryan Seacrest of the city for her relentless hard work across both TV and radio.
Whilst working for Singapore's Power 98FM, Simone was poached for a position at Richard Branson's Virgin Radio International to join "the jewel in the crown" of its international franchise, 104.4 Virgin Radio Dubai.
On top of hosting the highest-rating English radio lunch-time show for almost half a decade, Simone also established her name on television across the Arab world as host of "Dubai 101" on Dubai One TV, which she fronted for two seasons.
Simone is currently the face of Dove hair and has been the face of Ponds Arabia, BlackBerry Middle East and Philip Stein Watches. She has also been asked to represent iconic Dubai events like The Dubai World Cup's (the world's richest horse race) Jaguar Style Stakes 2013 where she was chosen as a judge of the fashions on the field.
CNN International has also chosen Simone as one of Dubai's travel guides for their global travel show CNN Go, which will air in October 2013. She is the only person to be nominated for Personality of the Year four years in a row in the 2010, 2011, 2012 and 2013 Ahlan! Best in Dubai Awards. Simone has lived in Australia, Singapore, the UAE and Switzerland. She speaks German, understands Swiss and speaks some basic Mandarin.
She's been named by Elle Arabia and Chanel Middle East as one of their 2013 "It Women" who personify the "spirit and grace" of both brands.
Simone is also part of the on-air team that won the 2010, 2011 and 2012 Ahlan! Best In Dubai Award for Best Radio Station and the 2013 Ahlan! Best in Abu Dhabi Award for Best Radio Station.
She has also interviewed personalities including Leona Lewis, Donna Karan, Gerard Butler, Kim and Kourtney Kardashian, Lewis Hamilton, Mikka Hakkinen, Omar Sharif and Nicole Scherzinger.
Sterling EQ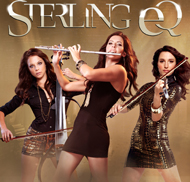 Known for changing the face of instrumental music in South Africa and beyond with their extraordinary fusion of virtuosity and fresh beats, Sterling EQ boasts three successful albums and a live DVD, three major music awards, over 700 live performances since 2007, and tens of thousands of followers worldwide. They have performed in 10 countries and for live audiences of up to 40,000, and on live television broadcasts to millions.
The multiple award-winning group is made up of electric flautist Carina Bruwer who is also well-known for her record-breaking marathon swimming feats which include solo crossings of the English Channel and Gibraltar Straits, electric violinist Luca Hart and electric cellist Ariella Caira. These three classically trained virtuosos share dozens of awards, degrees and distinctions between them, as well as a passion for the latest beats and pop music trends.
Career highlights include winning an South African Music Award in 2011, a 2013 Ghoema Music Award and a 2013 Huisgenoot Tempo Award, signing a major record deal with EMI South Africa in 2011, performing at top events like the SAMA Awards Show, the FIFA Congress Opening Ceremony and Official World Cup Banquet (2010), the World Travel Awards in India, Dubai, Durban and Johannesburg, SA Pop Idols 2011 (guest artist), the IPL 2009 Opening Matches and the Cape Town Stadium launch. Other memorable career moments include collaborating with the likes of Boney M and sharing stages with artists such as Snow Patrol, Carole Samaha and Lira, and performing in front of celebrities like Elton John, Liz Hurley, Annie Lennox, Lance Armstrong and Dr Robert Rey, amongst others. Further international recognition include play listing on international satellite channel CMusic TV, being chosen by The Guardian (UK) as one of its "Musical Movers and Shakers" from across the Globe in its "March Best Music from Around the Map", and song submissions from top international songwriters and instrumental music producers, including Tony Hiller and the celebrated Mike Batt.
Valeria and Mario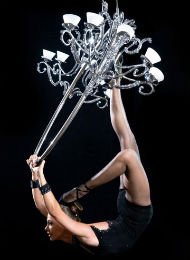 Valeria and Mario are two of the region's leading circus talents, and have been awarded top billing in state circuses of their respective home countries of Russia and Colombia.
Valeria spent many years honing her skills at leading training facilities in Moscow before embarking on a journey with internationally acclaimed companies. Mario has a similar story. With a background in dance, moving onto aerial circus work was a natural progression and one that has seen him go on to perform with some of the world's leading circus's.
They break new ground field in creating beautiful and entertaining performances and have worked alongside some of the world's leading performers and aerialists.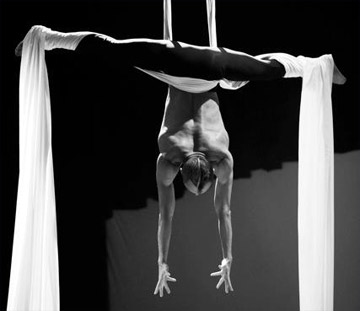 Jampacked
Internationally-acclaimed choreographer Danny Lee has taken his talents to a new level since forming his new dance company, Jampacked, here in the UAE two years ago.
His unique style, passion and never ending energy has ensured that he has rapidly become one of the most sought after choreographers in the MENA region and is a firm favourite with Arabic stars such as Haife Wahbe when shooting and choreographing their music video promos. He hails from the North West of England and his credits include being a regular performer on Sky 1. Since setting up in the UAE, he has performed at a host of top venues and global events such as The Abu Dhabi Formula One Grand Prix.
With Jampacked, Danny and his dancers are being hailed as the rapidly rising stars in the region, so watch this space.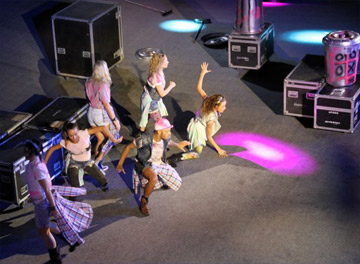 ABC Dance Company
A leading proponent of traditional Indo-Chinese dance, ABC Dance Company take their inspiration from the traditional Chinese folk dances, Chinese classical dances, including the famed lion dance. Their style echoes deep resonances of traditional Chinese culture, and combines elegance and the beauty of the body in motion with the controlled expression of strength and power.
Examples of their style include the Dun Huang Dance, a classic Chinese dance with dazzling costumes and colourful ribbons that represent the cultures and historic traditions of the desert city of Dun Huang in Gansu Province. The dance is based on the poses found in ancient cave paintings, in which Buddhist divinities fly gracefully towards their heavenly kingdom. Meanwhile the umbrella dance paints a picture of the playful River South lifestyle, feature dynamics moves such as jumps, turns, and flips, as well as extremely demanding aerial techniques, culminating in an enormous dance system.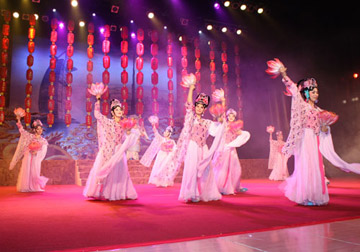 Event Partners