Outstanding Contribution to the Travel & Tourism Industry 2015
And the winner is...
| | |
| --- | --- |
| | Dr Lui Che-woo GBM, MBE, JP, Chairman, K. Wah International |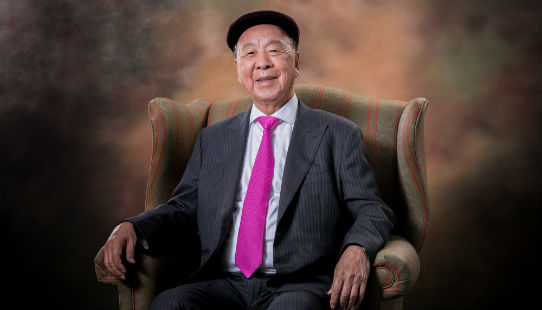 Gallery
Meet the Winner
Dr Lui Che-woo is a true tourism great.
Born in Jiangmen, Guangdong province, China in 1929, he established the first K. Wah Company in Hong Kong in the 1950s.
He is currently chairman of K. Wah Group, controlling major member companies including K. Wah International Holdings Limited, Galaxy Entertainment Group Limited, Stanford Hotels International, and K. Wah Construction Materials Limited.
Under his guidance K. Wah Group has developed into a multinational conglomerate, considered one of Asia's largest and leading companies.
The venture involves diversified businesses including properties, entertainment and leisure, hospitality, and construction, has over 200 subsidiaries and more than 33,000 employees worldwide.
Its footprint covers Hong Kong, Mainland China, Macau, North America and south-east Asia.
The group owns 28 hotels around the world, all of which are privately managed.
Dr Lui has been among the 12 largest hotel owners in the United States for many years, running a successful hotel business thanks to a modernised and systematic management regime and the training of local hotel management professionals.
A distinguished philanthropist, he has also been particularly supportive of the development of medical care, education and hotel and tourism industries.
In 2014, he established a HK$1.3 billion GEG Charitable Foundation to cultivate in the young proper moral values and to nurture their sense of belonging to society.
Just this year, he also established the international cross-sector Prize for World Civilisation to honour individuals or organisations which have unconditionally promoted world civilisation through sustainable development.
As a leader in the tourism and hospitality industry, Dr Lui has made immense contributions to advancing Hong Kong's status in the world tourism industry and enhancing service quality and personnel training for the industry.
He has furnished numerous forward-looking and sustainable proposals to the government in connection with the development of Hong Kong's tourism and hospitality industry.
This has been done either through the Federation of Hong Kong Hotel Owners, of which he is the founding chairman, or in a personal capacity, with the aim of facilitating stable and healthy development of the industry for the long term benefit of Hong Kong.
All in all, a stellar career, I am sure you will agree!