World Travel Awards talks to Alessandro Cabella, General Manager, Rome Cavalieri Waldorf Astoria about the measures he has implemented at his resort in reaction to the pandemic, and his thoughts on the emerging trends in travel and tourism.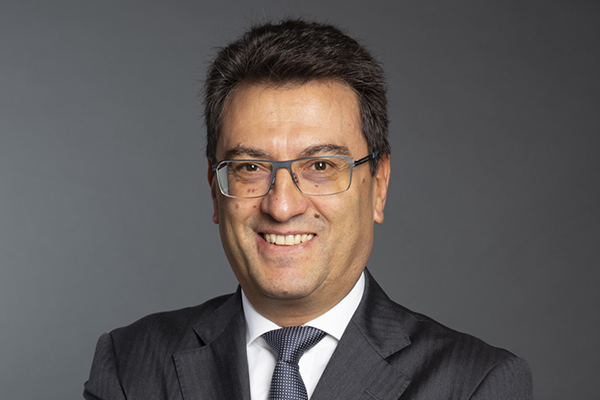 WTA: What operational changes at Rome Cavalieri Waldorf Astoria have you had to implement due to Covid-19?
AC: During such a particular time as this, Hilton carried out a study taking into account the most advanced international research in terms of environmental hygiene and safety. In line with the results obtained, Hilton launched the Hilton CleanStay Protocol for guest protection to which the Rome Cavalieri Waldorf Astoria adhered to immediately. The Protocol has also been extended to the event sector with CleanStay Event Ready. By virtue of this the Rome Cavalieri was one of the first hotels to reopen its doors after the first lockdown in July 2020 and continues in providing service to the city and its loyal customers.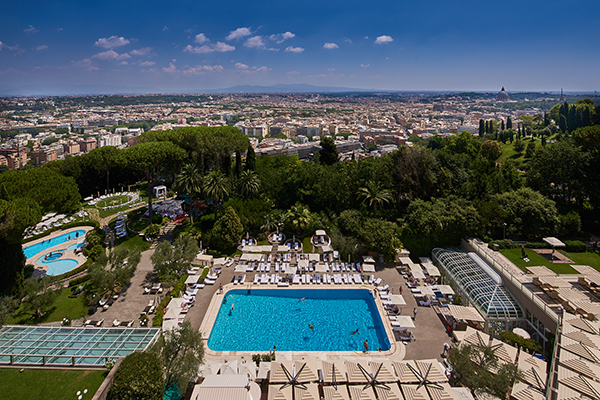 (Rome Cavalieri daytime view over Rome from hotel terrace)
WTA: With the resumption of international travel thankfully back on the horizon, how do you see the next year mapping out for you?
AC: Definitely with domestic travel with Hilton Italy having launched the campaign "Riscopri il tuo Paese" – Rediscover your Country and European travel. Regarding the American market, we are expecting this to come back more consistently starting from Q2 2022.
WTA: Describe the lockdown experience in Rome, and how did this compare to bustle of usual times.
AC: The Eternal City was at such a unique time, the streets were quiet, the monuments were empty and just walking the streets of Rome one could discover and enjoy things that you usually never noticed or experienced before. Even the ducks were enjoying the peace along the Tiber river and a few of them even enjoyed our swimming pools as a new luxury home something which we had never seen before. Parrots were flying around our gardens and nesting in our trees. The nature in public parks was booming, birds singing. Rome was silent but so beautiful. It was a Rome we never dreamt of.
(Penthouse Suite Bedroom)
WTA: What trends in travel and tourism do you see emerging in the aftermath of the crisis?
AC: In a world that is evolving rapidly and constantly, our offer will necessarily have to adapt to future demand. I would say we must focus our attention in particular to trends, for example:
* the eco-sustainability and socio-community commitment of a hotel or company will be increasingly expected and valued, especially by the new generations, who are particularly sensitive to these issues. Everything can be translated into the philosophy of "Travel with Purpose", that is to travel in a sustainable way, respecting the environment, the local communities, discovering destinations that reflect our way of being in order to have a positive impact on them as tourists. Some examples of our sustainable projects are the fight against food waste (in collaboration with the non-profit organization EquoEvento), the adoption and restoration of a public park, participation in the World Day of the Poor where we prepared and served lunch for over 1.500 needy people in the presence of Pope Francis.
* The quality (vs quantity) offered will be increasingly fundamental in everything that we propose.
* The personalization of our proposals, the so-called tailor-made, represents an added value of great importance.
* The sense of privacy and exclusivity will be sought to ensure as much as possible a holiday without risk and in complete safety.
* Technology will continue to be more and more part of our everyday life, even those of vacation, so we need to expand and enhance our relative offer (eg. Contactless check-in).
* Extreme flexibility of the offer and cancellation policies for both leisure and business travellers and groups.
* The creation of luxury experiences such as those offered by the Rome Cavalieri, including city tours by Vespa or with FIAT Spiaggina electric cars, exclusive access to private palaces and buildings, restoration laboratory of works of art, or horseback riding in the archaeological area of Ostia Antica, just to name a few.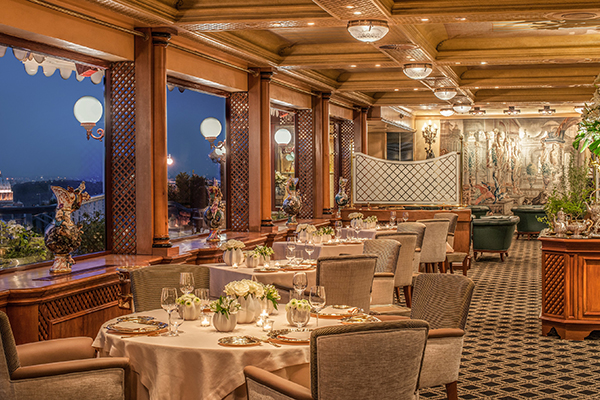 (La Pergola Restaurant)

About #Together
The World Travel Awards #Together initiative aims to galvanise the recovery efforts of the global travel and tourism industry.
#Together serves an on-going resource of information, practical advice and insights from the travel industry's thought-leaders and decision-makers to aid the collective recovery by bringing the industry together as a global unit, pooling collective knowledge and fostering cooperation.