Batumi to host WTA Europe Gala Ceremony 2023
3 May 2023 - London, UK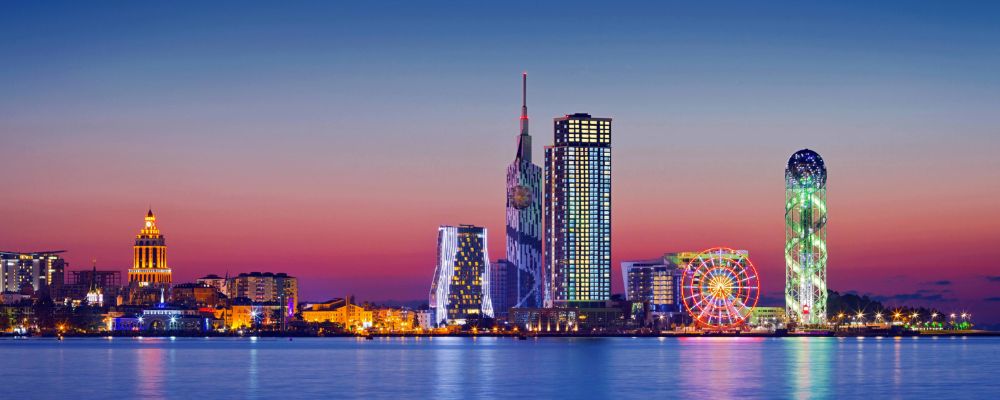 World Travel Awards (WTA) is delighted to announce that its landmark 30th anniversary Europe Gala Ceremony 2023 will be staged in one of the world's most exciting emerging tourism destinations. The magnificent city of Batumi, Georgia has made the headlines in recent years as Europe's new travel hotspot and tourism investment capital. The leading travel industry figureheads from across the continent will be invited to this must-attend VIP event on 30 September 2023.
Capital of the autonomous Ajara region, Batumi enjoys an enviable all-season climate on the shores of the Black Sea, with a backdrop of the magnificent snow-capped Ajara Mountains.
The gala ceremony will take place at Georgia's most important historical monument, the 2,000-year-old Gonio Fortress, one of the world's best-preserved examples of Roman architecture and a site steeped in myths and legends.
Graham Cooke, Founder, World Travel Awards, says: "I am honoured to unveil Batumi as the host of our Europe Gala Ceremony 2023. This fascinating destination is one of the rising stars of tourism, and as one of the most talked about locations in the world, is a place that everyone should visit. I am delighted it will form a crucial part of our special 30th anniversary Grand Tour."
He adds: "World Travel Awards has maintained its position as the industry leader for the past 30 years, consistently proving its value as the global benchmark for recognising and rewarding excellence in travel and tourism. I look forward to joining the most senior travel industry figureheads from across Europe for what promises to be a fabulous, historic event that will last long in everyone's memory."
Tornike Rijvadze, Chairman, Government of Ajara Autonomous Republic, says: "We are honoured to host the 30th anniversary of World Travel Awards Europe Gala Ceremony, in Batumi, Georgia. It is a privilege to welcome tourism leaders from around the world. We are proud to have you here with us, grateful for the opportunity of building together a greater future for our tourism industry and delighted to share with you the very best of Georgian hospitality."
KEY DATES
9 May: 2023 nominees announced and voting opens
20 August: close of voting window
30 September: World Travel Awards Europe Gala Ceremony 2023
Batumi Highlights
Batumi is rapidly establishing itself as one of the world's most desirable destinations, and offers a wide ranging portfolio of exciting things to see and do.
1. Endless summers
Famed for its summer season, Batumi is also a fascinating destination in spring and autumn. Visitors can sunbathe or swim from May, whilst sea temperatures are still ideal into October. Visitors can also trek in the nearby mountains of Ajara.
2. Old meets new
Batumi is one of the oldest cities in Georgia, and dates back to the 4th century BC. The city's unique history has contributed to its vast architectural diversity.
3. Batumi Boulevard
Started in 1881, Batumi Boulevard is one of the world's longest, stretching for eight kilometres and distinguished by broad walking and bicycle paths, magnolia and palm trees, fountains and cafés.
4. Ajarian cuisine and wine
Georgian cuisine offers an amazing array of cooking techniques, whilst viticulture is essential to Georgian culture, with around 50 different species of grape used in wine production.
5. Beautiful botanical gardens
For the scent of plants and flowers in an incredible coastal setting head to Batumi Botanical Garden. The garden features a thousand species of astonishingly beautiful and unique flowers.
6. Georgian hospitality
Exceptional hospitality and the goodwill of the Georgian people is the hallmark of every trip to Batumi. Guests will not only experience unparalleled hospitality, but will also be enchanted by the genuine kindness of the locals.
7. Explore the old town
The restored Old Town in Batumi is a charming place. Many of its building date back to the 19th century when Batumi was an important port along the route from Europe to the Caspian Sea.
8. Mix mountains and sea
The combination of seaside and mountains makes Batumi an ideal year-round tourist destination. The mountain resorts have excellent conditions all four seasons and are also ideal for romantic weekend getaways.
9. Georgian culture
Georgia is one of the oldest Christian countries in the world, leading to a significant influence on Georgian culture. The region is famous for its stone-arch bridges, religious monuments and monasteries, including Gelati and Svetitskhoveli Cathedral.
10. Georgian feast
Visiting Batumi would not be complete without sampling the Supra, a traditional feast and the backbone of Georgian social culture.
Notes to Editors
About World Travel Awards
WTA was established in 1993 to acknowledge, reward and celebrate excellence across all sectors of the tourism industry.
Today, the WTA brand is recognised globally as the ultimate hallmark of quality, with winners setting the benchmark to which all others aspire.
Each year, WTA covers the globe with a series of regional gala ceremonies staged to reward and celebrate individual and collective success within each key geographical region.
WTA gala ceremonies are widely regarded as the best networking opportunities in the travel industry, attended by government and industry leaders, luminaries and international print and broadcast media.
For more information about WTA visit worldtravelawards.com.
About Batumi
The Department of Tourism and Resorts of Ajara Autonomous Republic is a governmental organization supporting tourism development in Ajara region. It ensures the popularization of the region as a tourist destination on a national and international levels, identification, diversification and development of tourist products and improvement of the service level in the region.
For more information about Batumi please see visitbatumi.com.