Sandals Montego Bay to host World Travel Awards Caribbean & The Americas Gala Ceremony 2022
17 March 2022 - London, UK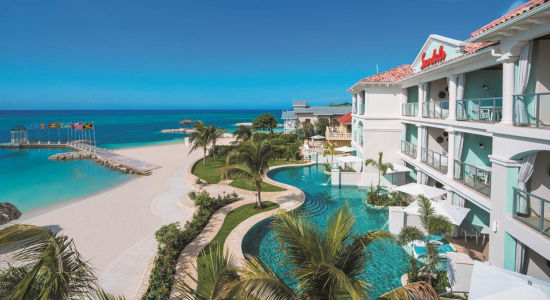 World Travel Awards (WTA) – will host its Caribbean & The Americas Gala Ceremony 2022 at Sandals Montego Bay, Jamaica. The leading travel industry figureheads and decision-makers from across the region will attend the red-carpet gala reception on 31 August 2022.
Voting for WTA's Caribbean and North America categories is now open and runs until midnight on 17 July. The winners will be unveiled at the red-carpet gala evening at Sandals Montego Bay.
Graham Cooke, Founder, WTA, says: "We are honoured to host our Caribbean & The Americas Gala Ceremony 2022 at the magnificent Sandals Montego Bay, the home of the Sandals brand, and what will also mark our eighth ceremony to be held in beautiful Jamaica."
He adds: "WTA has maintained its position as the industry leader for the past 29 years, consistently proving its value as the global benchmark for recognising excellence in travel and tourism. I look forward to joining the most senior travel industry figures from across the Caribbean and the Americas for what promises to be a fabulous evening, acknowledging those organisations leading the region's travel and tourism recovery."
Adam Stewart, Executive Chairman of Sandals Resorts International said: "This year's awards ceremony is a celebration in and of itself, signalling the return of the WTA to Jamaica coinciding with Sandals Resorts' commemorative 40th anniversary year. I have long said that the Caribbean will bounce back stronger than ever before, and hosting the 29th annual World Travel Awards at Sandals Montego Bay, our first ever Sandals resort, is a full circle moment. We have emerged stronger together, and it's time to celebrate those who are a driving force in the tourism ecosystem's extraordinary comeback.
The chic, Luxury Included Sandals Montego Bay is the flagship resort of the Sandals brand. Innovative and luxurious, the adults-only resort is nestled along a private white-sand beach where offshore reefs create calm waters, ideal for swimming and water sports. Luxurious beachfront swim-up suites, an over-the-water wedding chapel, a high-tech conference centre and 12 gourmet dining options, round out the resort's standout amenities.
Notes to Editors
About World Travel Awards
WTA was established in 1993 to acknowledge, reward and celebrate excellence across all sectors of the tourism industry.
Today, the WTA brand is recognised globally as the ultimate hallmark of quality, with winners setting the benchmark to which all others aspire.
Each year, WTA covers the globe with a series of regional gala ceremonies staged to recognise and celebrate individual and collective success within each key geographical region.
WTA gala ceremonies are widely regarded as the best networking opportunities in the travel industry, attended by government and industry leaders, luminaries and international print and broadcast media.
For more information about WTA visit worldtravelawards.com
About Sandals® Resorts
Sandals® Resorts offers two people in love the most romantic, Luxury Included® vacation experience in the Caribbean across its 15 stunning beachfront settings in Jamaica, Antigua, Saint Lucia, The Bahamas, Barbados, Grenada, and a 16th location coming to Curaçao in 2022. Celebrating 40 years, the leading all-inclusive resort company offers more quality inclusions than any other on the planet. Sandals Resorts exclusive include signature Love Nest Butler Suites® for the ultimate in privacy and service; butlers trained by the Guild of Professional English Butlers; the Red Lane Spa®; 5-Star Global Gourmet™ dining, ensuring top-shelf liquor, premium wines, and gourmet specialty restaurants; Aqua Centers with expert PADI® certification and training; fast Wi-Fi from beach to bedroom and Sandals Customizable Weddings. Sandals Resorts guarantees guests peace of mind from arrival to departure with the Sandals Platinum Protocols of Cleanliness, the company's enhanced health and safety measures designed to give guests the utmost confidence when vacationing in the Caribbean as well as the new Sandals Vacation Assurance, a comprehensive vacation protection program featuring an industry-first guarantee of a free replacement vacation including airfare for guests impacted by COVID-19 related travel interruptions. Sandals Resorts is part of family-owned Sandals Resorts International (SRI), founded by the late Gordon "Butch" Stewart, which includes family-oriented Beaches Resorts. For more information about the Sandals Resorts Luxury Included® difference, visit www.sandals.com.