Bolivia prepares to host World Travel Awards Latin America Ceremony 2019
12 July 2019 - La Paz, Bolivia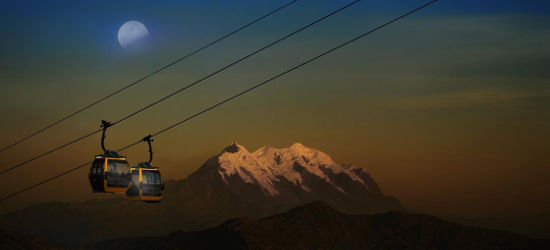 Bolivia is making final preparations as it steps up to host the World Travel Awards (WTA) Latin America Ceremony on 13th July 2019. The leading travel industry figureheads from across South and Central America are attending what will mark WTA's inaugural ceremony in this fascinating country.
The red-carpet evening is taking place at Real Plaza Hotel & Convention Center in the administrative capital, La Paz, one of the seven urban wonders of the world.
A fast emerging tourism destination, Bolivia is a country of incredible beauty and a rich indigenous culture. From luxury resorts on the shore of Lake Titicaca to the amazing salt flats of Uyuni, Bolivia offers a wealth of travel experiences.
Graham Cooke, Founder, WTA, says: "It is an honour to bring WTA to Bolivia for the first time in our 26-year history and I am excited to be welcoming the most senior decision-makers from across Latin America to this enchanting nation.
He added: "WTA has maintained its position as the industry leader for the past 26 years and the global benchmark for rewarding excellence in travel and tourism. I look forward to joining our nominees in La Paz for what will be a fascinating experience."
Wilma Alanoca Mamani, Minister of Cultures and Tourism of Bolivia, said: "We are delighted to welcome WTA, together with the leaders and entrepreneurs of the Latin America tourism industry with open arms to our wonderful country. The WTA Latin America Ceremony 2019 promises to be exciting. Bolivia has a rich culture and archaeology, and tourism is complementary to our living culture. La Paz, the city of peace, is unique – its geography, its people, its culture and customs coexist between the ancestral and the modernity of a metropolis."
The VIP ceremony will form the fifth leg of the WTA Grand Tour 2019 – a search for the finest travel and tourism organisations in the world. Other 2019 regional ceremonies include Montego Bay (Jamaica), Abu Dhabi (UAE), Mauritius, Madeira (Portugal), Phu Quoc (Vietnam), with the winners progressing to the Grand Final in Muscat (Oman).
Bolivia se prepara para albergar la ceremonia de entrega de los World Travel Awards Latinoamérica de 2019
Bolivia se encuentra en los preparativos finales mientras se prepara para la ceremonia de entrega de los World Travel Awards (WTA) de América Latina el 13 de julio de 2019. La industria de viajes líder de América del Sur y Central asistirá a lo que marcará la ceremonia inaugural de la WTA en este fascinante país.
La noche de alfombra roja se llevará a cabo en el Real Plaza Hotel & Convention Center en la capital administrativa, La Paz, una de las siete maravillas urbanas del mundo.
Bolivia, un destino turístico de rápido crecimiento, es un país de increíble belleza y una rica cultura indígena. Desde resorts de lujo a orillas del lago Titicaca hasta el increíble Salar de Uyuni, Bolivia ofrece una gran cantidad de experiencias de viaje.
Graham Cooke, fundador de WTA, indica que: "Es un honor traer la World Travel Awards a Bolivia por primera vez en nuestros 26 años de historia y estoy emocionado de dar la bienvenida a los más importantes tomadores de decisiones de toda América Latina a esta encantadora nación."
Agrega también: "WTA ha mantenido su posición como líder de la industria durante los últimos 26 años y el punto de referencia mundial para premiar la excelencia en viajes y turismo. Espero unirme a nuestros nominados en La Paz para lo que será una experiencia fascinante".
Wilma Alanoca Mamani, Ministra de Cultura y Turismo de Bolivia, dijo: "Estamos encantados de dar la bienvenida a World Travel Awards, junto con los líderes y empresarios de la industria del turismo de América Latina y el mundo quienes son recibidos con los brazos abiertos en nuestro maravilloso país. Bolivia tiene una gran riqueza cultural, arqueológica, destinos turísticos y emblemáticos complementarios con la cultura viva, por la ceremonia del World Travel Awards América Latina 2019 promete ser apasionante. La ciudad de La Paz es diferente, es única, su geografía, su gente, su cultura y costumbres conviven entre lo ancestral y lo moderno de una metrópoli," indicó la Ministra de Culturas y Turismo de Bolivia, Wilma Alanoca Mamani.
La ceremonia VIP formará la quinta etapa del WTA Grand Tour 2019, en busca de las mejores organizaciones de viajes y turismo del mundo. Otras ceremonias regionales de 2019 incluyen Montego Bay (Jamaica), Abu Dhabi (EAU), Mauricio, Madeira (Portugal), Phu Quoc (Vietnam), y los ganadores avanzan a la Gran Final en Mascate (Omán).
Notes to Editors
About World Travel Awards
WTA was established in 1993 to acknowledge, reward and celebrate excellence across all sectors of the tourism industry.
Today, the WTA brand is recognised globally as the ultimate hallmark of quality, with winners setting the benchmark to which all others aspire.
Each year, WTA covers the globe with a series of regional gala ceremonies staged to recognise and celebrate individual and collective success within each key geographical region.
WTA gala ceremonies are widely regarded as the best networking opportunities in the travel industry, attended by government and industry leaders, luminaries and international print and broadcast media.
For more information about WTA visit worldtravelawards.com.
Contact
World Travel Awards Public Relations
Telephone: +44 (0) 20 7925 0000
Email: [email protected]
Web: www.worldtravelawards.com
Social: Facebook // Twitter // Instagram