Sandals Montego Bay to welcome leaders of Caribbean and North American travel industry
17 January 2019 - London, UK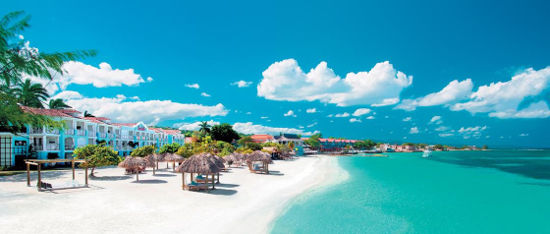 The newest and hottest resort in Jamaica, Sandals® Montego Bay, is hosting the World Travel Awards (WTA) Caribbean & North America Gala Ceremony 2019 on Monday 28th January.
The gala ceremony will be the premier gathering of the Caribbean and North American hospitality industries, with the key players and VIPs from across the two regions scheduled to attend. The evening will also mark the opening leg of the WTA Grand Tour 2019 – an annual search for the finest travel and tourism organisations in the world.
Graham Cooke, Founder, WTA, says: "We are delighted to return to Jamaica for the sixth time for our Caribbean & North America Gala Ceremony 2019. I am honoured that Sandals Montego Bay, the home of the Sandals brand, will host the opening leg of our 26th annual Grand Tour celebrating travel industry excellence. I look forward to joining all our nominees for what promises to be a fabulous night."
The red-carpet evening will take place on the eve of the 37th edition of Caribbean Travel Marketplace, which will be held at the Montego Bay Convention Centre from 29th-31st January 2019.
The reimagined and renovated Sandals Montego Bay now boasts a new lobby area and main bar, all new luxurious Beachfront & Oceanfront Swim-Up Butler Suites, an Over-the-Water Serenity Wedding Chapel, Latitudes Overwater Bar, a high-tech conference centre, and even more 5-Star Global Gourmet™ dining options such a new Jerk Shack, Butch's Steak and Seafood, and Soy Sushi Bar.
Gordon "Butch" Stewart, Chairman, Sandals Resorts International, says: "We are thrilled to be hosting the World Travel Awards here at the all-new Sandals Montego Bay. Across the entire Sandals brand, we're innovating at every touch point of the all-inclusive experience to continue exceeding guests' expectations, and I look forward to sharing all that's good and new for 2019 across all our resorts."
A limited number of tickets for the ceremony are still available. For further details of bookings click here.
Notes to Editors
About World Travel Awards
WTA was established in 1993 to acknowledge, reward and celebrate excellence across all sectors of the tourism industry.
Today, the WTA brand is recognised globally as the ultimate hallmark of quality, with winners setting the benchmark to which all others aspire.
Each year, WTA covers the globe with a series of regional gala ceremonies staged to recognise and celebrate individual and collective success within each key geographical region.
WTA gala ceremonies are widely regarded as the best networking opportunities in the travel industry, attended by government and industry leaders, luminaries and international print and broadcast media.
For more information about WTA visit worldtravelawards.com
About Sandals Resorts
Sandals Resorts offers two people in love with the most romantic, Luxury-Included® vacation experience in the Caribbean. With 16 stunning beachfront settings in Jamaica, Antigua, Saint Lucia, The Bahamas, Barbados and Grenada, Sandals Resorts offers more quality inclusions than any other resort company on the planet. Signature Love Nest suites for the ultimate in privacy and service; butlers trained by the English Guild of Professional Butlers; Red Lane Spa®; 5-Star Global Gourmet™ dining, ensuring top-shelf liquor, premium wines and gourmet specialty restaurants; Aqua Centers with expert PADI® certification and training; fast Wi-Fi from beach to bedroom and Aisle to Isle customized destination weddings are all Sandals Resorts exclusives. Sandals Resorts is part of family-owned Sandals Resorts International (SRI), which includes Beaches Resorts and is the Caribbean's leading all-inclusive resort company. For more information about the Sandals Resorts Luxury Included® difference, visit www.sandals.com.
Contact
World Travel Awards Public Relations
Telephone: +44 (0) 20 7925 0000
Email: [email protected]
Web: www.worldtravelawards.com
Social: Facebook // Twitter // Instagram