Durban to welcome leaders of Africa and Indian Ocean travel
23 August 2018 - London, UK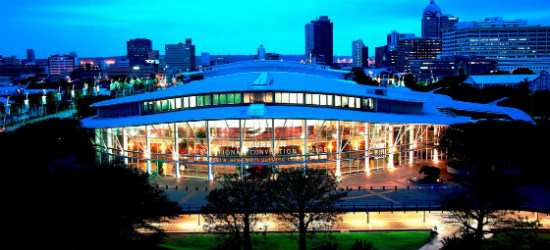 Africa's leading events and entertainment facility is stepping up to host the elite of the travel industry at the World Travel Awards (WTA) Africa & Indian Ocean Gala Ceremony 2018. Durban International Convention Centre will welcome travel and tourism figureheads from across Africa and the Indian Ocean for the red-carpet gala ceremony on 6th October 2018.
The evening marks the sixth leg of the WTA Grand Tour 2018 – an annual search for the finest travel and tourism organisations in the world, which is celebrating its 25th Silver Jubilee Anniversary this year.
Enviably located moments from Durban Beachfront, the world-class Durban ICC is a state-of-the-art events and entertainment venue. This is WTA's third visit to the iconic facility, which also hosted ceremonies in 2008 and 2009.
The neighbouring Hilton Durban will form the networking hub for the weekend. The landmark five-star hotel offers unrivalled accommodations in a supreme location, just moments from the Durban ICC and Durban's beachfront. All rooms offer panoramic views of the city or the Natal coastline, with easy access to Durban's beautiful beaches. WTA is partnering with Hilton Durban to offer exclusive accommodation rates to attendees of the gala ceremony.
Graham Cooke, Founder & President, WTA, said: "I am honoured that the beautiful city of Durban is forming part of WTA's Silver Jubilee anniversary celebrating and rewarding excellence in travel. With its amazing beaches and fascinating Afro-Indian culture, Durban is one of South Africa's essential destinations.
"We are delighted to partner with the Durban ICC. Opened by Nelson Mandela in 1997, this incredible facility has successfully staged some of the world's most prestigious events. I look forward to welcoming all of our nominees here on 6th October."
Lindiwe Rakharebe, Chief Executive Officer, Durban ICC, said: "I cannot express my excitement at the prospect of hosting this prestigious event in our world-class facility at the Durban ICC and the beautiful destination of Durban.
"We are all looking forward to welcoming our industry colleagues, friends and media from around the world. We are ready to give all our special visitors a warm and unforgettable Durban experience."
As part of the Grand Tour 2018, WTA is also hosting ceremonies in Ras Al Khaimah (UAE), Athens (Greece), Hong Kong, Guayaquil (Ecuador) and Jamaica, with the winners progressing to the Grand Final in Lisbon (Portugal).
A limited number of General Admission tickets to the WTA African & Indian Ocean Gala Ceremony are currently available. To book visit here.
Notes to Editors
About World Travel Awards
WTA was established in 1993 to acknowledge, reward and celebrate excellence across all sectors of the tourism industry.
Today, the WTA brand is recognised globally as the ultimate hallmark of quality, with winners setting the benchmark to which all others aspire.
Each year, WTA covers the globe with a series of regional gala ceremonies staged to recognise and celebrate individual and collective success within each key geographical region.
WTA gala ceremonies are widely regarded as the best networking opportunities in the travel industry, attended by government and industry leaders, luminaries and international print and broadcast media.
For more information about WTA, visit www.worldtravelawards.com.