Jumeirah leads winners at the World Travel Awards Middle East Gala Ceremony
29 October 2017 - Dubai, United Arab Emirates

Jumeirah has led winners at the World Travel Awards Middle East Gala Ceremony, taking the prestigious title of Middle East's Leading Luxury Hotel Brand.
A number of individual properties were also honoured, with Jumeirah Beach Hotel voted the Middle East's Leading Family & MICE Hotel, Jumeirah at Etihad Towers taking the title of Middle East's Leading Luxury Business Hotel, and Burj Al Arab Jumeirah awarded the trophy for Middle East's Leading All Suite Hotel.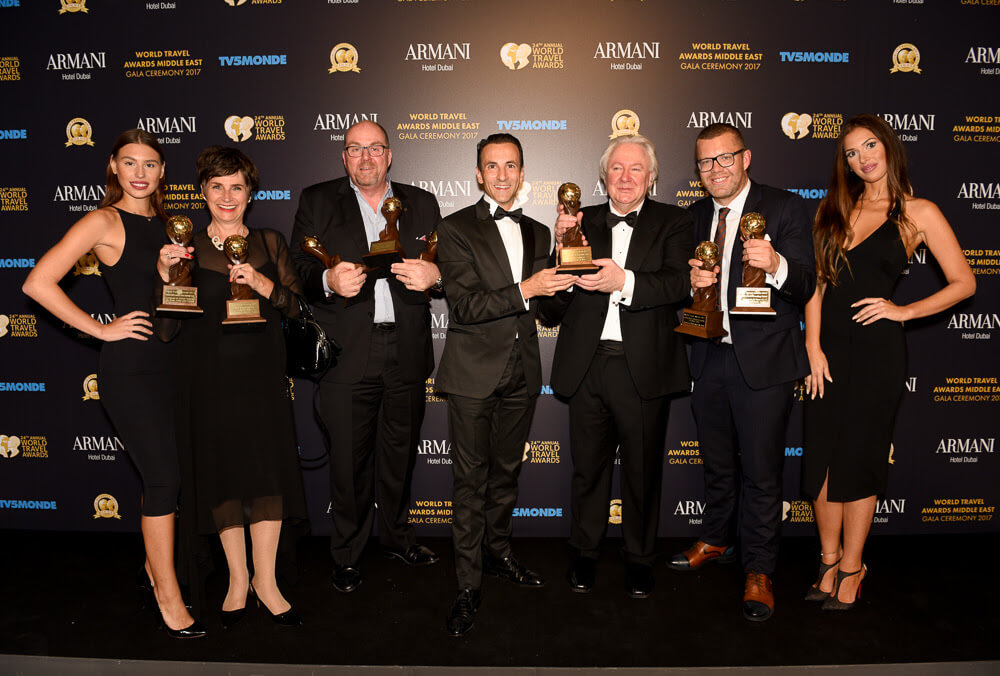 The red-carpet event was hosted at the Armani Hotel Dubai, situated within the iconic Burj Khalifa, with more than 400 industry leaders in attendance.
The tallest building in the world, the Burj Khalifa was itself recognised as the Middle East's Leading Tourist Attraction.
Saudi Arabia was also celebrating a successful night, as the kingdom's Vision 2030 seeks to turn the country into a tourism hotspot.
Riyadh's Al Faisaliah Hotel took the trophy for Middle East's Leading Business & Conference Hotel, among a host of other titles, while Flyin.com was recognised as the Middle East's Leading Online Travel Agency.
Also in the accommodation sector, Alnakhla Resort walked away with the prize for Middle East's Leading Luxury Residential Resort.
World Travel Awards President and Founder, Graham Cooke, said: "It is an honour for us to return to Dubai for our Middle East Gala Ceremony 2017.
"We have seen some deserving winners recognised here this evening at the Armani Hotel Dubai and my congratulations to them all.
"I look forward to meeting the leading lights of regional tourism again later this year, as we begin our final preparations for the Grand Final in Vietnam in December."
Middle Eastern icon Emirates Palace was honoured at the show, taking the title of Middle East's Leading Luxury Hotel.
Host Armani Hotel Dubai also took a share of the spoils, walking away with the title of Middle East's Leading Lifestyle Hotel.
The event was hosted by broadcaster Katie Fielder, while entertainment was provided by leading operatic tenor Andrew Amdur and 15-year-old singing sensation Anabella Amdur.
World Travel Awards was established in 1993 to acknowledge, reward and celebrate excellence across all sectors of the tourism industry.
Today, the World Travel Awards brand is recognised globally as the ultimate hallmark of quality, with winners setting the benchmark to which all others aspire.
Each year, World Travel Awards covers the globe with a series of regional gala ceremonies staged to recognise and celebrate individual and collective success within each key geographical region.
World Travel Awards Gala Ceremonies are widely regarded as the best networking opportunities in the travel industry, attended by government and industry leaders, luminaries and international print and broadcast media.
For more information about World Travel Awards please visit the official website.
A full list of winners from the Middle East Gala Ceremony can be seen here.
Notes to Editors
About World Travel Awards
World Travel Awards celebrates its 24th anniversary this year and is acknowledged across the globe as the ultimate travel accolade.
Attended by senior executives from major travel companies, operators, destinations, WTA events are universally respected as providing established, top level networking opportunities, regionally and globally.
The brand aims to celebrate those organisations who push the boundaries of industry excellence.