World Travel Awards arrives in St. Petersburg
26 September 2017 - St. Petersburg, Russia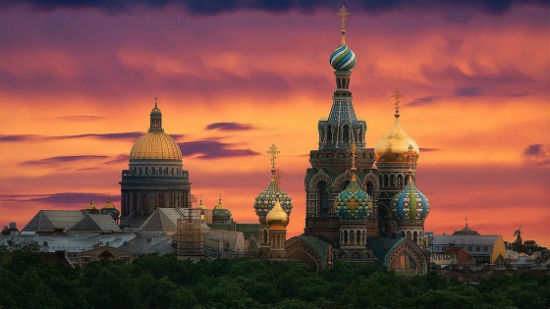 World Travel Awards (WTA) has landed in St. Petersburg, as the finishing touches are put together in preparation of the Europe Gala Ceremony.
The highly anticipated event will take place at the Marble Hall, Russian Museum of Ethnography this Saturday (30th September), while the official after party will be held in the ballroom at the luxurious five-star Hotel Astoria.
Speaking ahead of World Travel Awards Europe Gala Ceremony, WTA President & Founder Graham E Cooke said: "It will be a pleasure for World Travel Awards to visit Russia for the very first time. St. Petersburg is one of the most famous cities in the world and this is a fantastic opportunity for the city to take its rightful place as a top rank tourism destination."
A UNESCO World Heritage site, St. Petersburg is home to 36 historical complexes and around 4,000 outstanding individual monuments, magnificent architectural ensembles, beautiful courtyards, splendid parks and unique museums.
St. Petersburg Committee for Tourism Development Chairman, Andrey Mushkarev, added: "We will be honoured to host the leading European tourism industry professionals in St. Petersburg.
"We are confident this event will be one of the best in the history of the World Travel Awards and we are pleased to invite everyone to the Europe Gala Ceremony in St. Petersburg, a city that is the pride not only of Russia and Europe, but of the whole world."
World Travel Awards was established in 1993 to acknowledge, reward and celebrate excellence across all sectors of the tourism industry.
Today, the World Travel Awards brand is recognised globally as the ultimate hallmark of quality, with winners setting the benchmark to which all others aspire.
Each year, World Travel Awards covers the globe with a series of regional gala ceremonies staged to recognise and celebrate individual and collective success within each key geographical region.
World Travel Awards Gala Ceremonies are widely regarded as the best networking opportunities in the travel industry, attended by government and industry leaders, luminaries and international print and broadcast media.
For more information about World Travel Awards, please visit the official website, www.worldtravelawards.com.
Notes to Editors
About World Travel Awards
World Travel Awards celebrates its 24th anniversary this year and is acknowledged across the globe as the ultimate travel accolade.
Attended by senior executives from major travel companies, operators, destinations, WTA events are universally respected as providing established, top level networking opportunities, regionally and globally.
The brand aims to celebrate those organisations who push the boundaries of industry excellence.