World Travel Awards joins World Spa Awards at JW Marriott Phu Quoc Emerald Bay
4 September 2017 - London, UK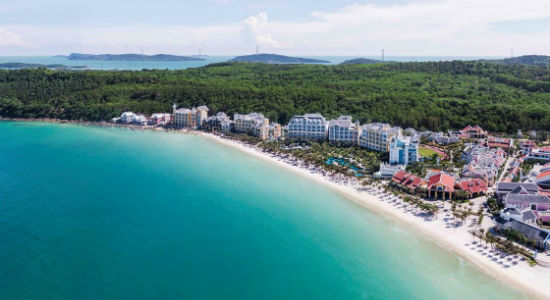 World Travel Awards has confirmed that its Grand Final Gala Ceremony 2017 will join World Spa Awards at JW Marriott Phu Quoc Emerald Bay Resort & Spa in Vietnam.
Both the World Travel Awards Grand Final and World Spa Awards will take place on the evening of 10 December at the luxury five star beach resort, welcoming hundreds of hospitality leaders from across the region and around the world.
The decision to combine World Travel Awards Grand Final Gala Ceremonyand World Spa Awards Gala Ceremony will give nominees and delegates a heightened exposure on the night, as well as increasing the networking opportunities on offer.
The event will be a showcase of both the best of Vietnamese hospitality and the global spa and wellness industry.
World Travel Awards President Graham Cooke said: "Having taken the decision to combine both the World Travel Awards Grand Final Gala Ceremony and World Spa Awards Gala Ceremony, it is a pleasure to confirm they will both take place in early December at the incredible JW Marriott Phu Quoc Emerald Bay Resort & Spa."
Enviably situated on the pristine island of Phu Quoc – a lush, hidden paradise off the southern coast of Vietnam – JW Marriott Phu Quoc Emerald Bay Resort & Spa transports guests back to the bygone era of the early 20th century, with Bill Bensley's whimsical design of a mythical academy of Lamarck University offering a world of fantasies, and JW Marriott's legendary services with exquisite detail evident throughout the property.
However, the standout at JW Marriott Phu Quoc Emerald Bay Resort & Spa is without a doubt the resort's flagship spa, Chanterelle - Spa by JW, with unique mushroom-themed design as references from Alice in Wonderland, offering an unconventional guest journey and an unparalleled experience in an imaginative space.
The spa boasts a VIP treatment room with its own luxurious bath, sauna and steam room, seven treatment rooms and one VIP treatment room, two reflexology rooms, two express treatment rooms, a sauna and steam room and a beauty salon.
"We are extremely proud and honoured to host both the 24th annual World Travel Awards Grand Final and the 3rd annual World Spa Awards at the incredible JW Marriott Phu Quoc Emerald Bay Resort & Spa," said Ty Collins, General Manager at JW Marriott Phu Quoc Emerald Bay Resort & Spa.
"A lush resort that is a destination unto itself, JW Marriott Phu Quoc Emerald Bay embodies the academic narrative across its enriching experiences of true luxury. As a host of the two prestigious events, we look forward to celebrating the pinnacle of the both the global tourism and spa industry during a spectacular Gala Ceremony event at our hotel resort."
World Travel Awards was established in 1993 to acknowledge, reward and celebrate excellence across all sectors of the tourism industry.
Today, the World Travel Awards brand is recognised globally as the ultimate hallmark of quality, with winners setting the benchmark to which all others aspire.
Each year World Travel Awards covers the globe with a series of regional gala ceremonies staged to recognise and celebrate individual and collective successes within each key geographical region.
World Travel Awards Gala Ceremonies are widely regarded as the best network-ing opportunities in the travel industry, attended by government and industry leaders, luminaries, and international print and broadcast media.
World Spa Awards is a dynamic awards programme, launched in 2015, and is designed to drive up standards within spa and wellness tourism by rewarding the organisations that are the leaders in the field.
For more information about World Travel Awards, please visit the official website www.worldtravelawards.com, while there is more information on the World Spa Awards at worldspawards.com.
Notes to Editors
About World Travel Awards
World Travel Awards celebrates its 24th anniversary this year and is acknowledged across the globe as the ultimate travel accolade.
Attended by senior executives from major travel companies, operators, destinations, WTA events are universally respected as providing established, top level networking opportunities, regionally and globally.
The brand aims to celebrate those organisations who push the boundaries of industry excellence.
Find out more at www.worldtravelawards.com
About World Spa Awards
World Spa Awards was developed in reaction to overwhelming demand from the spa industry for a programme that was fair and transparent. A programme with a mission to serve as the definitive benchmark of excellence, and to help to foster a new era of growth in spa tourism.
For the full low-down, please visit worldspaawards.com
About JW Marriott Phu Quoc Emerald Bay
Nestled in the pristine beach of Bai Khem, JW Marriott Phu Quoc Emerald Bay is the proud flagship of JW Marriott Hotels and Resorts in Vietnam.
JW Marriott Phu Quoc offers a selection of 244 artistically unique well-appointed rooms, suites and villas with Bill Bensely's whimsical touches blend harmoniously.
Boasting five estaurants and contemporary bars, the crafted dining experience will satisfy even the most discerning palate including Tempus Fugit, French & Co., Red Rum, Pink Pearl and the Department of Chemistry bar.
Meetings are redefined in this destination 715 sqm Grand Ballroom, with spacious breakout rooms elegantly designed to suit every need. A wide range of enriching experiences are waiting to be explored, from cultural events, artisanal shopping experiences, ultimate indulgence at Chanterelle-Spa by JW, to water activities at the resort's private beachfront.
For more information, visit www.jwmarriottphuquoc.com.