Sun Aqua Vilu Reef to host World Travel Awards Indian Ocean Gala Ceremony
20 April 2017 - London, UK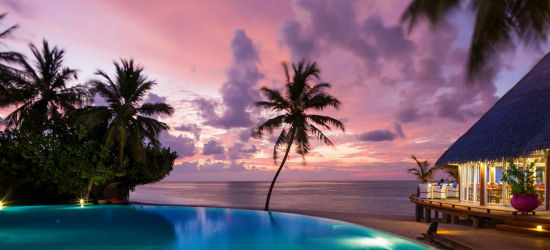 World Travel Awards (WTA) has revealed that the five-star Sun Aqua Vilu Reef will host its prestigious Indian Ocean Gala Ceremony 2017 on the 8th July.
The event will take place on Meedhuffushi Island in the Maldives' South Nilandhe Atol, with hospitality leaders from across the region expected to be in attendance.
Sun Aqua Vilu Reef offers 103 luxurious rooms and suites - all of which come with deep soaking tubs, complimentary Wi-Fi and 24-hour room service.
Beyond the bedrooms, guests can indulge in signature spice-scented scrub at the spa or borrow a book to read while soaking up the sun on the pristine beach.
When night falls, sample one of Sun Aqua Vilu Reef's restaurants serving a range of international cuisine, before enjoying a sundowner cocktail while listening to DJ spun tunes.
Ahead of the Indian Ocean Ceremony, WTA Founder and President Graham Cooke said: "It is an honour for us to reveal Sun Aqua Vilu Reef as the host for the World Travel Awards Indian Ocean Ceremony 2017."
"This is a wonderful resort in a picturesque tourist hotspot. It will be genuine pleasure for us to welcome nominees to the event in July."
Cooke added: "With voting still open there is a chance for members of the tourism industry and general public to make their voices heard in the build up to the event."

Evgenia Boyankova, Group Director of Business Development at Sun Siyam Resorts, commented: "We love hosting world class events! It's always been a thrill that brings a lot of fun and enjoyment to our guests. We are getting ready for World Travel Awards Indian Ocean Gala Ceremony with great excitement. Myself and the team look forward to welcoming the participants to our boutique resort, where Maldivian hospitality, culture and luxury is unrivalled."
Voting for the World Travel Awards Indian Ocean Gala Ceremony is open until 22nd May 2017, with more information here.
A full list of nominees can be seen here.
World Travel Awards was established in 1993 to acknowledge, reward and celebrate excellence across all sectors of the tourism industry.
Today, the World Travel Awards brand is recognised globally as the ultimate hallmark of quality, with winners setting the benchmark to which all others aspire.
Each year, World Travel Awards covers the globe with a series of regional gala ceremonies staged to recognise and celebrate individual and collective success within each key geographical region.
World Travel Awards Gala Ceremonies are widely regarded as the best networking opportunities in the travel industry, attended by government and industry leaders, luminaries and international print and broadcast media.
For more information about World Travel Awards, please visit the official website, www.worldtravelawards.com.
Notes to Editors
World Travel Awards celebrates its 24th anniversary this year and is acknowledged across the globe as the ultimate travel accolade.
Attended by senior executives from major travel companies, operators, destinations, WTA events are universally respected as providing established, top level networking opportunities, regionally and globally.
The brand aims to celebrate those organisations who push the boundaries of industry excellence.