World Travel Awards set for Middle East Gala Ceremony at The St. Regis Dubai
27 September 2016 - London, UK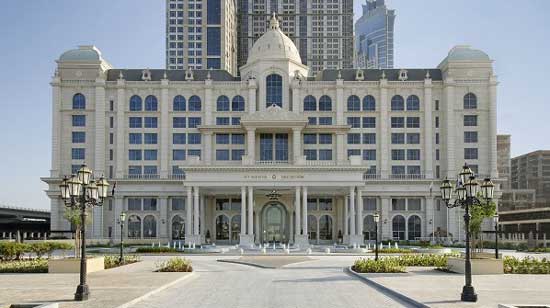 World Travel Awards will host its much anticipated Middle East Gala Ceremony 2016 at The St. Regis Dubai on September 29th.
The event is the latest stop on the Grand Tour 2016, with previous hosts including Diamonds La Gemma dell'Est in Tanzania, Sandals Ochi Beach Resort in Jamaica, Swissôtel Lima, and Italy's Forte Village Resort.
The St. Regis Dubai will become the latest destination to join this illustrious group.
Situated in the newly built Al Habtoor City, the hotel extends the legacy of the Astor family to Dubai, mixing the city's contemporary architecture with the original design of St. Regis in New York.
World Travel Awards President Graham Cooke said: "The Middle East Gala Ceremony is always a highlight of the Grand Tour for the World Travel Awards and I am excited to be bringing the event to Dubai in 2016.
"We will welcome industry leaders from across the region to the stunning The St. Regis Dubai as the hotel celebrates its first year of operations and I am sure it will be a night to remember."
The event will be hosted by United Arab Emirates' star Shereen Mitwalli and will welcome performances from leading Middle Eastern entertainers.
World Travel Awards was established in 1993 to acknowledge, reward and celebrate excellence across all sectors of the tourism industry.
Today, the World Travel Awards brand is recognised globally as the ultimate hallmark of quality, with winners setting the benchmark to which all others aspire.
Each year World Travel Awards covers the globe with a series of regional gala ceremonies staged to recognise and celebrate individual and collective successes within each key geographical region.
World Travel Awards Gala Ceremonies are widely regarded as the best networking opportunities in the travel industry, attended by government and industry leaders, luminaries, and international print and broadcast media.
See a full list of nominees for the Middle East Gala Ceremony 2016 here, while there is more information on World Travel Awards here.
Notes to Editors
About World Travel Awards
World Travel Awards celebrates its 23rd anniversary this year and is acknowledged across the globe as the ultimate travel accolade.
Attended by senior executives from major travel companies, operators, destinations, WTA events are universally respected as providing established, top level networking opportunities, regionally and globally.
The brand aims to celebrate those organisations who push the boundaries of industry excellence.
Download the World Travel Awards logo here or find out more here.