World Travel Awards touches down in Jamaica ahead of Caribbean & North America Gala Ceremony
14 September 2016 - Ocho Rios, Jamaica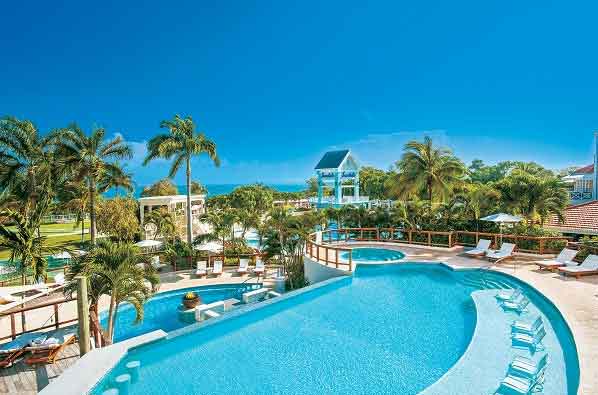 World Travel Awards has arrived at Sandals Ochi Beach Resort in Jamaica as the finishing touches are put together in preparation of the Caribbean & North America Gala Ceremony 2016.
The Luxury Included resort will welcome hospitality leaders from across the region on Saturday, September 17th, as they gather to see who among them has been voted the best-of-the-best.
Wrapped in the lush beauty of rolling mountains, meandering rivers, cascading waterfalls, and a picture-perfect coastline, Sandals Ochi Beach Resort inspires those who seek out its adventurous spirit and chic attitude.
This essence of cool Caribbean is found at the resort - a distinctive fusion of the French Riviera, with all its savoir faire, and the laid back rhythms of a Jamaican beach resort.
The event this year will be hosted by Adrian Atkinson and Yendi Philsps, while the glittering ceremony will also see performances from Etana, Tam T, Jodi K, Ana Strachan and the Silver Birds Steel Pan Ochestra.
World Travel Awards President Graham Cooke said: "It is a pleasure for us to return to Jamaica for our annual Caribbean & North America Gala Ceremony.
"We have had a long and fruitful relationship with Sandals Resorts International and I can think of no better partner for this event.
"I look forward to welcoming all of our nominees to Sandals Ochi Beach Resort this weekend."
World Travel Awards was established in 1993 to acknowledge, reward and celebrate excellence across all sectors of the tourism industry.
Today, the World Travel Awards brand is recognised globally as the ultimate hallmark of quality, with winners setting the benchmark to which all others aspire.
"It is our pleasure to host this year's World Travel Awards at the newly renovated Sandals Ochi Beach Resort," said Gordon "Butch" Stewart, Chairman of Sandals Resorts International.
"We constantly strive for excellence by improving our products, and we're excited to showcase our all-new accommodations and amenities in Jamaica during this year's awards ceremony."
Each year World Travel Awards covers the globe with a series of regional gala ceremonies staged to recognise and celebrate individual and collective successes within each key geographical region.
World Travel Awards Gala Ceremonies are widely regarded as the best networking opportunities in the travel industry, attended by government and industry leaders, luminaries, and international print and broadcast media.
For more information about World Travel Awards, please visit the official website.
Notes to Editors
About World Travel Awards
World Travel Awards celebrates its 23rd anniversary this year and is acknowledged across the globe as the ultimate travel accolade.
Attended by senior executives from major travel companies, operators, destinations, WTA events are universally respected as providing established, top level networking opportunities, regionally and globally.
The brand aims to celebrate those organisations who push the boundaries of industry excellence.
Download the World Travel Awards logo here or find out more here.
About Sandals Resorts
Sandals Resorts offers two people in love with the most romantic, Luxury-Included vacation experience in the Caribbean.
With 15 stunning beachfront settings in Jamaica, Antigua, Saint Lucia, The Bahamas, Barbados and Grenada, Sandals Resorts offers more quality inclusions than any other resort company on the planet.
Signature Love Nest suites for the ultimate in privacy and service; butlers trained by the English Guild of Professional Butlers; Red Lane Spa; Discovery Dining, ensuring top-shelf liquor, premium wines and gourmet specialty restaurants; Aqua Centres with expert PADI certification and training; fast Wi-Fi from beach to bedroom and WeddingMoons, for dream destination weddings are all Sandals Resorts exclusives.
Sandals Resorts is part of family-owned Sandals Resorts International, which includes Beaches Resorts and is the Caribbean's leading all-inclusive resort company.