World Travel Awards joins World Spa Awards at Forte Village Resort
15 August 2016 - London, UK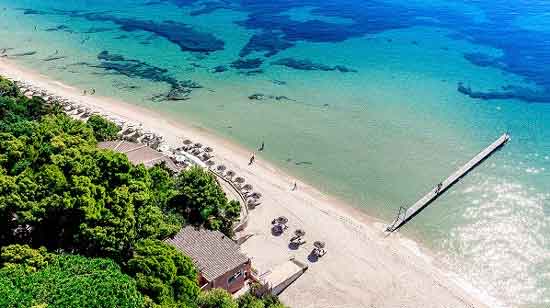 London, August 15th, 2016
World Travel Awards has confirmed the Europe Gala Ceremony 2016 will join World Spa Awards at Forte Village Resort on the southern tip of Sardinia, Italy.
Both events will take place on the evening of September 4th at the world-class resort, welcoming hundreds of hospitality leaders from across the region and around the world.
The decision to combine World Travel Awards Europe Gala Ceremony and World Spa Awards Gala Ceremony will give nominees and delegates a heightened exposure on the night as well as increasing the networking opportunities on offer.
The event will be a showcase of both the best of European hospitality and the global spa and wellness industry.
World Travel Awards President Graham Cooke said: "Having taken the decision to combine both the World Travel Awards Europe Gala Ceremony and World Spa Awards Gala Ceremony it is a pleasure to confirm they will both take place early next month at Forte Village Resort."
Forte Village Resort is the perfect host for the dual-event.
The world renowned location stands in a unique 47 hectares tropical park setting on the beautiful south coast of Sardinia, approximately 40 kilometres from Cagliari airport.
The resort is a world of its own, with a wide choice of four and five star hotels, beachfront suites and villas, restaurants, pools, sports activities, children's clubs and entertainment, on a magnificent beach where guests can be as active or relaxed as they wish.
World Travel Awards was established in 1993 to acknowledge, reward and celebrate excellence across all sectors of the tourism industry
Today, the World Travel Awards brand is recognised globally as the ultimate hallmark of quality, with winners setting the benchmark to which all others aspire.
Each year World Travel Awards covers the globe with a series of regional gala ceremonies staged to recognise and celebrate individual and collective successes within each key geographical region.
World Travel Awards Gala Ceremonies are widely regarded as the best networking opportunities in the travel industry, attended by government and industry leaders, luminaries, and international print and broadcast media.
World Spa Awards is a dynamic awards programme, launched in 2015, and is designed to drive up standards within spa and wellness tourism by rewarding the organisations that are the leaders in the field.
For more information about World Travel Awards, please visit the official website, while there is more information on the World Spa Awards here.
Notes to Editors
About World Travel Awards
World Travel Awards celebrates its 23rd anniversary this year and is acknowledged across the globe as the ultimate travel accolade.
Attended by senior executives from major travel companies, operators, destinations, WTA events are universally respected as providing established, top level networking opportunities, regionally and globally.
The brand aims to celebrate those organisations who push the boundaries of industry excellence.
Download the World Travel Awards logo here or find out more here.
About World Spa Awards
World Spa Awards was developed in reaction to overwhelming demand from the spa industry for a programme that was fair and transparent; a programme with a mission to serve as the definitive benchmark of excellence, and to help to foster a new era of growth in spa tourism.
Voting methodology is simple; votes are cast by professionals working within the spa industry - senior executives, travel buyers, tour operators, agents and media - and by the public.
Votes are submitted online at World Spa Awards website.