World Travel Awards Grand Final 2015 winners revealed
12 December 2015 - El Jadida, Casablanca, Morocco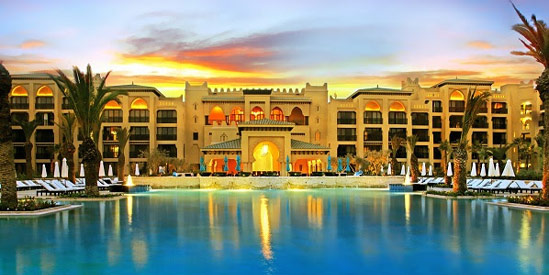 Abu Dhabi flag-carrier Etihad Airways has been awarded the title of World's Leading Airline for the seventh consecutive year at the World Travel Awards (WTA) Grand Final 2015.
The award presentations were the highlight of the red carpet event which welcomed over 300 industry leaders from around the globe to the Mazagan Beach & Golf Resort in Morocco.
Also celebrating was Saudi Arabia's Al Faisaliah Suites, which took the double honour of World's Leading Luxury Suites Hotel and World's Leading Hotel Penthouse, while InterContinental Danang Sun Peninsula Resort was recognised as the World's Leading Luxury Resort.
In two special awards presented by the World Travel Awards Academy, Moroccan Minister of Tourism, Dr Lahcen Haddad, was recognised for Outstanding Contribution to the Travel & Tourism Industry 2015, while the trophy for World's Leading Exemplary Hotel Personality 2015 was presented to Al Khozama Management Company Vice President, Hospitality Division, Mr Hussein Ali Hatata.
World Travel Awards President Graham Cooke said: "It has been an honour to recognise the achievements of the global hospitality sector here at the Mazagan Beach & Golf Resort in Morocco.
"Each of our Grand Final nominees has been recognised as a regional leader during our Grand Tour 2015, and this evening we were able to salute the best of the best – the elite of international tourism.
"My heartfelt congratulations to each and every one of our recipients this evening, it is your hard work, dedication, initiative and investment that makes the tourism sector the success it is today."
Also among the winners was HNA Tourism Group, which walked away with the title of World's Leading Integrated Tourism Group, while Frasers Hospitality took the title of World's Leading Serviced Apartment Brand.
The title of World's Leading Tourist Attraction went to the Las Vegas Strip, while World's Leading Fully Integrated Resort was awarded to Cornelia Diamond Golf Resort & Spa.
In the technology sector, Atlantis, Paradise Island, took the title of World's Leading Hotel Website.
WTA Gala Ceremonies are widely regarded as the best networking opportunities within the travel and tourism industry, attended by government and industry leaders, luminaries, and international print and broadcast media.
WTA was established in 1993 to acknowledge, reward and celebrate excellence across all sectors of the tourism industry.
Today, the World Travel Awards brand is recognised globally as the ultimate hallmark of quality, with winners setting the benchmark to which all others aspire.
Each year WTA covers the globe with a series of regional gala ceremonies staged to recognise and celebrate individual and collective successes within each key geographical region.
A full list of World and Travel Technology winners can be seen here.
For more information on the World Travel Awards Grand Final 2015 please visit the official website.
Notes to Editors
About World Travel Awards
World Travel Awards celebrates its 22nd anniversary this year and is acknowledged across the globe as the ultimate travel accolade.
The brand aims to celebrate those organisations who push the boundaries of industry excellence.
The World Travel Awards global media partner network includes International New York Times, TV5Monde, CNBC Arabiya, Outlook Traveller, Khaleej Times, TTN, Best in Travel, Breaking Travel News, and Travel Daily News International.
World Travel Awards has a television audience of 300 million spread across 200 countries, while also reaching hundreds of thousands of print and digital readers each month through an extensive network of global media partners.
Download the World Travel Awards logo here or find out more here.