World Travel Awards lands in Morocco ahead of Grand Final 2015
11 December 2015 - London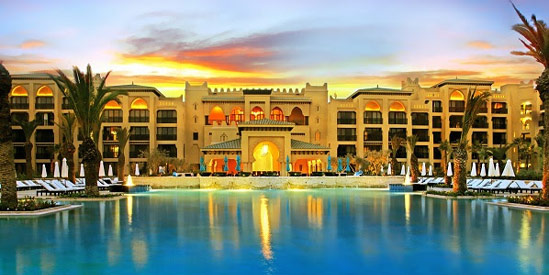 World Travel Awards has arrived in Morocco as final preparations are put in place for the Grand Final 2015.
Over 300 hospitality leaders from around the globe are expected at the red carpet ceremony, which will take place at Mazagan Golf & Beach Resort on Saturday, December 12th.
Guests of honour include Moroccan Minister of Tourism, Dr Lahcen Haddad, Her Excellency Ms Magali Silva Velarde Alvarez, Minister of Foreign Trade & Tourism of Peru, and Maldives Minister of Tourism Mr Moosa Zameer.
Preparations are well underway, with Moroccan television celebrity Samid Ghailan confirmed as host for the Gala Ceremony.
A sumptuous banquet will also be served at the ceremony, mixing the best of local cuisine with an international flair, while guests will also be invited on a cultural tour of Morocco with leading performers from across the country welcomed to the stage.
World Travel Awards President and Founder, Mr Graham Cooke said: "This is the final stage of our Grand Tour 2015. We have toured the world during our six regional Gala Ceremonies and now we welcome the elite of international hospitality to Morocco to compete for the global titles.
"It is a pleasure to be welcomed to Morocco for the first time, and I could not think of a more appropriate host for this evening than Mazagan Golf & Beach Resort."
Mazagan Beach & Golf Resort itself was opened in October 2009 following a multi-million dollar investment project initiated by HRH Mohammed VI, the King of Morocco.
The resort, which encompasses 250 hectares of the Atlantic coast, was created by Kerzner International, a leading international developer and operator of destination resorts.
The perfect host for the highlight of the international hospitality calendar.
World Travel Awards (WTA) Gala Ceremonies are widely regarded as the best networking opportunities within the travel and toursim industry, attended by government and industry leaders, luminaries, and international print and broadcast media.
WTA was established in 1993 to acknowledge, reward and celebrate excellence across all sectors of the tourism industry.
Today, the World Travel Awards brand is recognised globally as the ultimate hallmark of quality, with winners setting the benchmark to which all others aspire.
Each year WTA covers the globe with a series of regional gala ceremonies staged to recognise and celebrate individual and collective successes within each key geographical region.
For more information on the World Travel Awards Grand Final 2015, please visit the official website.
Notes to Editors
About World Travel Awards
World Travel Awards celebrates its 22nd anniversary this year and is acknowledged across the globe as the ultimate travel accolade.
The brand aims to celebrate those organisations who push the boundaries of industry excellence.
The World Travel Awards global media partner network includes International New York Times, TV5Monde, CNBC Arabiya, Outlook Traveller, Khaleej Times, TTN, Best in Travel, Breaking Travel News, and Travel Daily News International.
World Travel Awards has a television audience of 300 million spread across 200 countries, while also reaching hundreds of thousands of print and digital readers each month through an extensive network of global media partners.
Download the World Travel Awards logo here or find out more here.