Saint Petersburg, Russia, leads World Travel Awards European winners in Sardinia
4 September 2015 - Sardinia, Italy
Saint Petersburg, Russia, has claimed the title of Europe's Leading Destination at the World Travel Awards Europe Gala Ceremony in Sardinia, Italy.
During a glittering ceremony at Forte Village Resort, the Russian capital of culture was recognised for its exceptionally rich history, centuries-old traditions and bright future.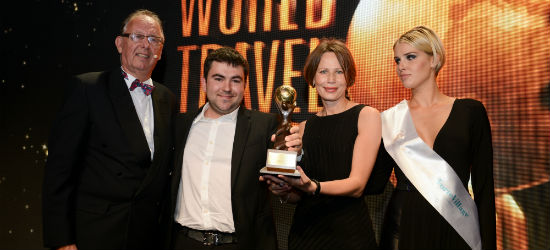 The evening also saw Lufthansa defend its title as Europe's Leading Airline for fifth consecutive year, while TAP Portugal walked away with the awards for Europe's Leading Airline to Africa and Europe's Leading Airline to South America.
Forte Village Resort claimed four trophies, including recognition as Italy's Leading Resort and Europe's Leading Resort by World Travel Awards voters.
An audience of more than 250 industry leaders from across Europe were in attendance for the presentations on Saturday evening.
Following the show World Travel Awards President Graham Cooke said: "Congratulations to all our winners here at Forte Village Resort.
"These are the leaders of our industry here in Europe and it is a pleasure and an honour to recognise their achievements this evening."
Among the other big winners was Europcar, which took the title of Europe's Leading Car Rental Company, and Cornelia Diamond Golf Resort & Spa in Turkey, which was voted Europe's Leading Luxury Resort.
Also on the winner's podium was the recently opened Excelsior Hotel Gallia, Italy, which claimed the Europe's Leading Luxury Hotel title, and Conrad Algarve, recognised as Europe's Leading Luxury Resort.
Lorenzo Giannuzzi Chief Executive and General Manager of Forte Village: "It was a great pleasure for Forte Village to host the World Travel Awards Europe Gala Ceremony 2015.
"In addition to celebrating the spirit and excellence in the hospitality and tourism industry, the ceremony represents a very pleasant and stimulating moment for everyone to meet. Thank you to all the guests who came to the resort to take part.
"This was a special event made such by all those who have contributed and participated - thanks again to all the guests that joined us on this special evening."
All the winners from the Europe Gala Ceremony will now move forward to the World Travel Awards Grand Final later this this year.
The ceremony is due to take place at Mazagan Beach & Golf Resort, El Jadida, Morocco, on December 12th.
A full list of the Europe Gala Ceremony winners can be seen here.
World Travel Awards Gala Ceremonies are widely regarded as the best networking opportunities within the travel and tourism industry, attended by government and industry leaders, luminaries, and international print and broadcast media.
Notes to Editors
About World Travel Awards
World Travel Awards celebrates its 22nd anniversary this year and is acknowledged across the globe as the ultimate travel accolade.
The brand aims to celebrate those organisations who are pushing the boundaries of industry excellence.
The World Travel Awards global media partner network includes International New York Times, TV5Monde, CNBC Arabiya, Outlook Traveller, Khaleej Times, TTN, Best in Travel, Breaking Travel News, and Travel Daily News International.
World Travel Awards has a television audience of 300 million spread across 200 countries, while also reaching hundreds of thousands of print and digital readers each month through an extensive network of global media partners.
Download the World Travel Awards logo here or find out more here.