World Travel Awards recognises the best of South & Central American tourism in Quito
9 August 2014 - Quito, Ecuador

A host of industry leaders are celebrating this evening after the winners were revealed at the World Travel Awards South & Central America Gala Ceremony 2014.
In front of an elite industry audience at the Centro Cultural Itchimbía, in Ecuadorian capital Quito, LAN Airlines walked away with the title of South America's Leading Airline, while South America's Leading Business Travel Destination went to Bogota, Colombia.
Hosts, the city of Quito, were awarded the prestigious World Travel Awards trophy for South America's Leading Destination.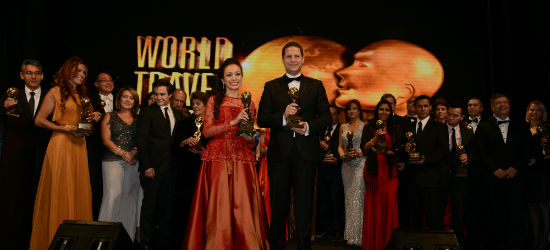 Ecuador, too, were recognised, taking the title of South America's Leading Green Destination, while South America's Leading Tourist Board went to Ecuador Ministry of Tourism.
World Travel Awards President Graham Cooke said: "It has been an honour to host our annual South & Central America Gala Ceremony here in Quito, Ecuador. From the moment we arrived we have been made to feel at home by the members of Quito Tourism, and their professionalism, endeavour and initiative are the envy of the world."
He added: "We have seen some regional leaders recognised here tonight and I offer my heartfelt congratulations to them all. World Travel Awards voters have cast their ballots and selected the best in South American tourism. I look forward to greeting all of our winners in Morocco for the Grand Final in November."
Among the other winners on the night were Swissôtel Quito, which took the title of South America's Leading Conference Hotel, and South America's Leading Luxury Train, Tren Crucero.
A full list of winners can be seen here.
The ceremony was hosted by Ecuadorian writer, photographer and television personality Renato Ortega, while a stellar entertainment line-up featured the native artisans of the Quito School of Arts & Crafts and a violin tribute to the Avenue of Volcanoes.
Speaking at the Gala Ceremony Luz Elena Coloma, General Manager, Quito Tourism, said: "It is an honour to welcome travel experts here to Quito, those who work hard to develop their tourism destinations. It has been a great experience to coordinate this event with the prestigious World Travel Awards."
She added: "We have been working hard to make this evening unforgettable, showcasing the diversity of our city as a gateway to the mega-diverse country of Ecuador. This event is an important platform to promote both Quito and Ecuador as an important destination on the global stage."
Quito is the third stage of the World Travel Awards annual Grand Tour.
The 2014 tour began at the JW Marriott Marquis, Dubai, in May, with the second stop taking place at Divani Apollon Palace & Thalasso on August 2nd. World Travel Awards next visits The Oberoi, New Delhi, India, on October 10th, before completing the Grand Tour in October on the sunshine island of Anguilla.
World Travel Awards will then head to Marrakech, Morocco for the Grand Final 2014 on November 29th.
World Travel Awards Gala Ceremonies are widely regarded as the best networking opportunities in the travel industry, attended by government and industry leaders, luminaries, and international print and broadcast media.
Notes to Editors
About World Travel Awards
Hailed as 'the Oscars of the travel industry', World Travel Awards celebrates its 21st anniversary this year and is acknowledged across the globe as the ultimate travel accolade.
The organisation aims to celebrate those brands that are pushing the boundaries of industry excellence.
WTA's global media partner network includes International New York Times, TV5Monde, CNBC Arabiya, Newsweek, Outlook Traveller, Travel & Leisure, Khaleej Times, Trade Arabia, TTN, Trav Talk India, Publituris, ASTA Network, Breaking Travel News, Travel Daily News International and Focus on Travel News.
This global media partner network has a monthly readership of 1.7 million and a TV audience reach of 90 million.
For more info about WTA's South & Central Ceremony 2014 visit: www.worldtravelawards.com/event/south-and-central-america-2014
To download WTA logos visit: www.worldtravelawards.com/logo
About Quito Turismo
Quito Turismo, is the tourism board of the Ecuador´s capital. This public institution works with the Mayor of the city in order to develop the tourist industry in the Metropolitan District of Quito.
Quito Turismo works on different strategies that focus on:
- The supporting to the entrepreneurship in tourism projects for the community
- The development of new tourism products that highlight the cultural and historic legacy of Quito
- The technical assistance in tourism skills to the private tourist sector
- The promotion of the city as a tourist destination in local, regional and international markets
For further information:
Address: N79-39 Amazonas Av. and La Prensa Av. Bicentenario Convention Center. Quito-Ecuador
Telephone: 593-2-299-3300
Fax: 593-2-299-3341
Email: [email protected]
Website: www.quito.com.ec
Facebook (English): www.facebook.com/quitoturismoUK
Facebook (Deutsch): www.facebook.com/quitoturismoDE
Facebook (Español): www.facebook.com/quitoturismoES