World Travel Awards arrives in Antigua
13 September 2013 - Antigua

World Travel Awards has arrived in Antigua ahead of the Caribbean & North America Gala Ceremony. The event – which is scheduled to take place tomorrow night at Sandals Grande Antigua Resort & Spa – will welcome representatives from over 30 competing nations. The events are widely considered one of the leading networking opportunities in the travel industry.

"Sandals Grande Antigua Resort & Spa is honoured to open its doors to the World Travel Awards for this distinguished occasion," said Gordon 'Butch' Stewart, chairman, Sandals Resorts International. "It is our pleasure and sincere privilege to extend Sandals' rich tradition of hospitality to our fellow leaders of the travel industry and invite all to enjoy our beautiful beachfront setting and all the amenities this wonderful resort has to offer."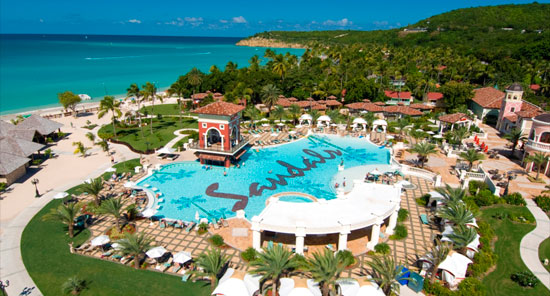 The North America region will see winners in three new categories Leading Hotel Suite, Leading Family Resort and Leading Meetings & Conference Destination. Key categories elsewhere in the show will see 18 nominees battle it out for the title of Caribbean's Leading Hotel.
Top global cities including Denver, Maui, Miami, New York, Orlando, and Washington DC will also go head-to-head for the coveted title of North America's Leading Destination.
A formidable line-up of entertainment has been lined up for the ceremony, with celebrity presenter Walt Willey overseeing proceedings. He co-hosted the 20th Annual Daytime Emmy Awards and is best known to many as All My Children's Jackson Montgomery, a role he played for almost 25 years. Walt is one of the busiest men in showbiz and has just wrapped a series for Discovery and a web series for NYC Brands, Tainted Dreams. He soon begins production on another Western series, Thurston and is currently touring with his one-man show, Wild Bill! An Evening with James Butler Hickok and his stand-up comedy act, the Wild & Willey Comedy Tour.
Co-Host is the gorgeous and talented Samoya Kirby, a previous title holder of Miss Antigua & Barbuda who has represented her island in numerous regional competitions, charities and international events. She currently works as a news reporter and news anchor with Antigua & Barbuda's national broadcasting service. Since 2004, Samoya has also served as the voice of the Ministry of Tourism, Culture & Civil Aviation and has spearheaded projects such as the Ivan Relief mission to Grenada in 2004.
Turning up the heat will be the famous band The Burning Flames headed by the legendary King Onyan. He is best known as one of the founding members and lead vocalist of The Burning Flames, who after their hit song Stiley Tight enjoyed massive success in the following years with global hits including Workey Workey and Soca anthem Island Girl. In the off season following carnival Onyan tours extensively and writes and produces for several national and regional artists.
Also performing is Passion De Dance, headed up Karen Brookes, who is well known for her contribution to the development of dance in Antigua. She studied at the world acclaimed Trinity Laban Conservatoire of music and Dance in London, a leading school of contemporary dance.
Complementing the outstanding entertainment is sweet-voiced Kayla Layhe who started out as a member of her high school choir and a member of Le' Chateau D'or School of Music, playing the keyboard, recorder and the steel pan.
Notes to Editors:
Useful Links

Event Info: www.worldtravelawards.com/event76
Caribbean Nominees: www.worldtravelawards.com/nominees/2013/caribbean
North America Nominees: www.worldtravelawards.com/nominees/2013/north-america
Media Centre: www.worldtravelawards.com/media

About Sandals Resorts

With 14 stunning beachfront settings, Sandals Resorts has earned a worldwide reputation for providing two people in love with the most romantic vacation experience in the Caribbean. Sandals Resorts welcomes guests to the islands of Jamaica, Antigua, Saint Lucia, The Bahamas and soon Grenada with a myriad of exclusive amenities from luxurious accommodations and Butler service to gourmet specialty dining and premium wines and spirits.
The award-winning Sandals Resorts is also the perfect venue for dream destination weddings, vow renewals, honeymoons, or what Sandals Resorts has coined WeddingMoons®. For more information on Sandals Resorts Luxury Included experience, please visit www.sandals.com.