World Travel Awards announces Safari Park Hotel for prestigious Africa Gala Ceremony
4 September 2013 - London

World Travel Awards (WTA), the "Oscars of the travel industry", announces the Safari Park Hotel & Casino as the prestigious venue in Nairobi, Kenya, where WTA's Africa Gala Ceremony 2013 will take place on 16th October 2013. This will be the hottest travel ticket in Nairobi as most of the important decision-makers in the region's travel and tourism sector are scheduled to attend. World Travel Awards Gala Ceremonies are widely regarded as possibly the best networking opportunities in the travel industry, attended by government and industry leaders, luminaries, and international print and broadcast media.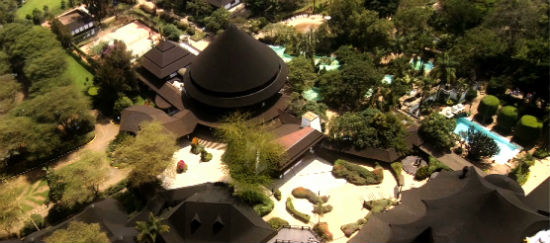 The visit of World Travel Awards to Nairobi has highlighted how the city is rapidly emerging into one of Africa's key hubs for business and leisure. Graham E. Cooke, President of WTA, says: "The selection of our host destination country and host venue is fundamental to the success of our awards programme, and Nairobi, as a vibrant and progressive city, brimming with opportunities, ticks all the boxes. The Resort itself is one of the very best of our Host venues worldwide, and we are delighted that they are embracing the World Travel Awards for our Africa Ceremony".


The Safari Park Hotel is Nairobi's largest conference destination located in 50 acres of beautifully landscaped gardens with a wide variety of indigenous trees, and an array of exotic birds and butterflies. This oasis of tranquillity blends elegant African architecture with luxurious accommodation and world class facilities and entertainment. The Safari Park Hotel is a intriguing fusion of international sophistication, safari style, theme-park fun and cultural creativity.


This world-class conference venue boasts over 20 conference and meeting rooms, instant global connectivity and first-class business support services. It has five specialty restaurants from Japanese to Italian, Chinese to international, and the Nyama Choma Ranch, with entertainment from 'Safari Cats', Kenya's sleekest dance troupe. It also boasts a glittering entertainment centre, with The Piano Bar, Hemingway's Lounge, The Cats Club, King Solomon's Mine Casino, and one of the most stunning stage shows in Africa.


The Kenya Tourism Board through Managing Director, Muriithi Ndegwa said "This venue is one of the most elaborate conferencing hotels that we have in the region, and it has hosted many local, regional and international fora that have raised Kenya's profile in the global map. The attendees will certainly get a feel of the best of Kenya and they can be assured of an evening to remember."


The World Travel Awards Africa event ceremony marks one more stage in the year long search for the very best travel, tourism and hospitality brands worldwide. This time it is Africa's turn to show the world what is on offer. Organisations compete in 47 Award categories, the most sought after include Africa's Leading Hotel and with nominees including Arabella Hotel & Spa South Africa, Cape Grace South Africa, Conrad Pezula Resort & Spa South Africa, Fairmont Mount Kenya Safari Club Kenya, Fairmont The Norfolk Kenya, Mena House Oberoi Hotel & Casino Egypt, Royal Mansour Morocco, Saxon Boutique Hotel, Villas & Spa South Africa, and The Palace of the Lost City South Africa.


Kenya is located in East Africa and boasts of pristine beaches bathed by the Indian Ocean; two of them, Diani and Watamu voted last year by CNN as two of the top 25 beaches in Africa. Kenya is also home to the majestic snow-capped Mount Kenya. This fascinating country is rapidly emerging as an Adventure destination offering activities from hot air ballooning, to authentic cultural interactions with the local ethnic communities and water sports among other activities. Kenya is also home of the famed Masai Mara that gives thousands of visitors the experience of the eighth wonder of the world, that of the wildebeest migration.


The 2013 Grand Tour has already concluded regional events in the Dubai (UAE), the Maldives, Turkey, Peru, with the North American & Caribbean Event and Asia & Australasia Event still to take place. All the winners of these regional events will progress to the Grand Final which will take place at the end of November at La Cigale Hotel Doha Qatar.


The 2012 WTA Grand Tour ceremonies were attended by more than 3,000 guests from 92 countries, as well as media from 194 TV channels and publications.


Notes to Editors


Useful Links


Media Registration


Accredited members of the media can register for complimentary press passes to cover the World Travel Awards events. Please email
[email protected]
or call +44 20 7925 0000.
About World Travel Awards


World Travel Awards was established in 1993 to acknowledge, reward and celebrate excellence across all sectors of the tourism industry. Today, the World Travel Awards brand is recognised globally as the ultimate hallmark of quality, with winners setting the benchmark to which all others aspire.
WTA's global media partner network includes TV5Monde, International Herald Tribune, CNBC Arabiya, Newsweek, Outlook Traveller, Travel & Leisure China, Khaleej Times, Trade Arabia, TTN, Trav Talk India, Publituris, ASTA Network, Breaking Travel News, Travel Daily News International, Focus on Travel News and Passport Magazine.


This global media partner network has a monthly readership of 1.7 million and a TV audience reach of 90 million.
For further World Travel Awards press info contact:
t: +44 (0)20 7925 0000