Gastronomy capital of Latin America, Lima, Peru prepares for glittering World Travel Awards
17 July 2013 - London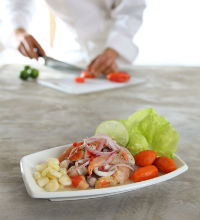 World Travel Awards, regarded worldwide as the "Oscars of the Travel Industry" has arrived in exotic Lima, Peru where the glittering World Travel Awards Gala Ceremony Central & South America take place on July 20th.

The gala evening will be held at the fabulous Huaca Pucllana temple with Lima revealing not only its ancient mystique and charm, but also its world renowned cuisine. South America is a continent with a magical mix of cultures and unique landscapes. Neighbourhoods are colourful; jungles teem with wildlife; beaches are mostly unspoilt and the history of ancient civilizations is evident wherever one goes. Whether one explores cloud shrouded mountains, or cobbled streets lined with 16th Century Spanish Haciendas, this land has been crafted with earliest myths and legend.

Peru offers an empire of hidden treasures and is home to ancient cultures and a rich colonial tradition. It nestles amidst the soaring Andes mountain range with lush expanses of Amazon rainforest.

Local cuisine must be one of the highlights of any visit to Peru. Drawing inspiration from ingredients both native and contemporary, exciting dishes are created a mix of wonderful, unique flavours and textures. With over 1000 years of history, Lima, an ancient Spanish colonial city, is the capital of Peru and often referred to as the "City of Kings" or the "Gastronomy Capital" of Latin America, and is the ideal place to discover the multi-faceted array of Peruvian cuisine.

Peruvian fare is a reflection of the influences from different times and immigrant cultures as well as its three main geographical zones; the coast, the Andean highlands and the jungle. It combines "Pre-Inca" and "Inca staples" with European, African and Asian influences brought by immigrants to the region. This unique fusion of the culture, traditions and flavours of four different continents co-exist harmoniously.

The three traditional staples of Peruvian cuisine are corn, potatoes, and chili peppers. Staples brought by the Spanish include rice, wheat and meats (beef, pork and chicken). Many traditional foods—such as quinoa, kaniwa, some varieties of chillies, and several roots and tubers have dramatically increased in popularity in recent years, reflecting a revival of interest in native Peruvian foods and culinary techniques. While it has only been recognised internationally in the last few years, food and its preparation has always been an important part of Peruvian culture and a unique way to express Peruvian identity.

Typical Peruvian Main Courses are characterised by fresh local ingredients native to the region that each unique climate and landscape provides. These ingredients vary in flavour and colour reflecting the native heritage, the three main geographical areas and of course the merging of traditional with foreign immigrant cooking styles. Delicious dishes such as Lomo Saltado (salted beef tenderloin symbolising the fusion of Peruvian ingredients with Asian techniques of preparing food) are found around every corner. Lomo Saltado is made of sliced beef stir stir-fried with red onions, tomatoes, yellow Peruvian chilies (aji amarillo), soy sauce, vinegar and cilantro and served with French fries and rice.

No meal is complete without at least three or four different mouth-watering salsas (sauces). Peruvians love their salsas and enjoy them liberally with any food. Salsas seem to intensify the flavours of local dishes and nearly all contain typical ingredients such as aji (chili pepper), lime juice and local herbs. Caution should be exercised when trying these salsas for the first time as they could prove either tantalisingly spicy or excruciatingly hot!

Salsa Criolla is the most popular sauce in Peru. Prepared with red onions, aji amarillo, the juice of Peruvian limes and some freshly chopped coriander or parsley, Salsa Criolla accompanies numerous typical local dishes and is a must-have on the table when enjoying a Peruvian meal.

Peruvians also love their "dulces". Relatively unknown in pre-Hispanic times Peruvian desserts are heavily influenced by its Spanish and other foreign equivalents. Some popular desserts in Lima include the famous Tres Leches and Picarones.

Tres Leches is a simple sponge cake soaked in milky syrup made of three different kinds of milk: sweetened condensed milk, evaporated milk and whole milk (or cream). While extremely sweet and heavy, it is absolutely delicious and easy to prepare.

Picarones were developed in Colonial times to replace the Spanish Buñuelos. African slaves simply substituted unavailable or expensive ingredients with Peruvian ones and created a dessert so popular that it is often sold by street vendors. Picarones are a type of donuts made of a squash or pumpkin dough, deep fried and served with cane syrup called chancaca.

The first Peruvian drink that comes to mind is Peru's National Drink Pisco. Equally popular is Pisco Sour (comprising Pisco, lime juice, egg white and syrup), a typical cocktail to kick start a hearty Peruvian meal. It is based on the Pisco (a type of brandy) which originated in Lima in the early 1920s. Peru also produces some excellent red wines and delicious beer. So, while Ceviche, Quinoa and Pisco Sours have become favorites in restaurants around the world, the best Peruvian specialties are still found at home.

Lima's top gastronomic restaurants are located in the Miraflores district, although some are to be found in San Isidro, Surco and Barranco.

Five of the city's best restaurants are:-

Astrid & Gastón, Miraflores
Opened in 1994 by celebrity Chef Gastón Acurio and his German-born wife, this restaurant continues to delight. Pacific seafood occupies centre stage, in dishes such as "Ceviche of love": raw sea urchin, clam, squid, mussel and shrimp marinaded in lime and three types of chilli pepper, served in an oyster shell. Produce from all over Peru is showcased, from Andean lamb and a confit of paiche to a Peruvian curry of tubers, vegetables, grains, herbs and spices served with quinoa.

Malabar, San Isidro
Malabar has always ranked among the top five in Summum (Peru's equivalent of the Michelin guide. Start with a tiny square of tofu flavoured with chonta (heart of palm) with armoured catfish caviar and a broth of cecina (smoked pork); other stand-out dishes were tiradito (a refined ceviche) of sole dyed magenta using a medicinal herb from the Amazon, with tumbo juice (from an Andean fruit) in the marinade, served with tobiko (flying-fish roe); and freshwater shrimp with yuyo (a type of marine algae) and a carpaccio of pig's trotter with Mediterranean flavours: parsley, garlic and olive oil.

Perroquet, San Isidro
This colonial-style restaurant at the five-star Country Club Lima Hotel is surrounded by embassies and opposite the golf course. Start with sea bass ceviche, or a trio of causa (yellow potato mash) with fillings of, respectively, avocado and crab, chilli and shrimp, and sea bass in a spicy pickling mixture. As a main, try lomo saltado (stir-fried beef, Chifa-style) or fillet of chita (a white fish) on a bed of creamy sliced potatoes, sautéed with onion and white wine. One starter or main will serve two.

Mesa 18, Miraflores
Mesa 18 is quirky and contemporary and situated at the Miraflores Park Hotel by Orient-Express. It serves Japanese cuisine made with the best local ingredients. Try the gyoza (pork and shrimp dumplings) followed by ceviche maki – a sushi roll of salmon, cream cheese (very Peruvian) and avocado, covered in white fish slices marinaded in lime juice and chilli. Scallop ceviche with maca – an energy-giving herb or Grouper in a light, sweet soy marinade topped with ginger julienne is also worth a mention.

Rafael, Miraflores
Set inside a vivid red 1920s house with a modern interior and Art Deco details, Rafael Osterling's warmly welcoming restaurant serves Peruvian fusion with Mediterranean influences. Pizza, prosciutto, figs, basil and pine nuts jostle on the starter menu with ceviche of sole, scallops and black baby clams, and tiradito Nikkei – yellowfin tuna sashimi with yuzu (a Japanese citrus fruit), mirin (rice wine), guacamole and smoky sesame oil. Mains include a stew of North Peruvian grouper cheeks with vongole, calamari and confit potatoes, and a Peruvian dish of rice and puy lentils with pan-fried foie gras, river shrimp, scallops and roast banana.

Five typical dishes to try when out and about in Lima:-

Anticuchos
These skewers of grilled, marinated meat (much like shish kebabs) are served everywhere in Peru. High-end restaurants offer them as entradas, or appetizers. Street-cart vendors sell them slathered in a garlicky sauce. While almost any meat can be prepared this way, the most traditional—and best—anticuchos are made with beef heart, a practice believed to trace back to the days when Peru's Spanish conquerors would consume a cow's choicest cuts and leave the organs for their slaves.

Rocoto Relleno
This dish is typically associated with Arequipa, Peru's second largest city, but it is served everywhere. What appears to be a plain-old red bell pepper is actually a fiery Capsicum pubescens (at least ten times as hot as a jalapeño when raw, but boiled to reduce its thermonuclear properties), stuffed with spiced, sautéed ground beef and hard-boiled egg. This is topped with melted white cheese, baked, and served whole.

Alpaca
In the Northern Hemisphere, the name alpaca refers to expensive wool used to make sweaters and socks. In the Andean highlands, this smaller cousin of the llama has also been a source of meat for centuries. The taste is similar to buffalo or other grass-fed meats: somewhat gamier than beef and very lean.

Lucuma
While Peru's cuisine is most famous for its spicy and savory dishes, Peruvians adore sweets, too—as evidenced by the popularity of Lucuma . This is a tree fruit that looks like a mango, but tastes like maple syrup. It's usually used as a flavouring in desserts, and is also popular as ice cream.

Pollo a la Brasa
This Peruvian-style roast chicken is so delicious—and popular—that it's now available in cities around the globe. The secret is marinating the chicken in soy sauce flavoured with red peppers, garlic, and cumin, giving the meat and skin a smoky, salty taste. Outside Peru it's typically paired with French fries, but the more traditional accompaniment is fried yuca, a waxy tuber that has a pleasant chewiness and holds its own against the spicy dipping sauces with which pollo a la brasa is typically served.

The Mistura Food Festival is a gastronomic 10 day event that takes place annually and is attended by some 600,000 food lovers. Hundreds of restaurants, street food vendors, farmers, chocolate-makers, a special area dedicated only to Pisco, a chef theatre and cultural stage make up an event that is an explosion of colours, flavours and catchy rhythms – not to be missed.

Ends.
Note to Editors
Downloads
South & Central America media kit: download
Useful Links
South & Central America Ceremony: www.worldtravelawards.com/event80
Mexico & Central America Nominees: www.worldtravelawards.com/nominees/2013/mexico-and-central-america
South America Nominees: www.worldtravelawards.com/nominees/2013/south-america
Media Centre: www.worldtravelawards.com/media
About World Travel Awards
Hailed as "The Oscars of the Travel Industry", World Travel Awards celebrates its' 20th Anniversary this year and is acknowledged across the globe as the ultimate travel accolade, an aims to celebrate those brands that are pushing the boundaries of industry excellence.
WTA's global media partner network includes International Herald Tribune,TV5Monde, CNBC Arabiya, Newsweek, World Travel Channel, Outlook Traveller, Travel & Leisure China, Khaleej Times, Trade Arabia, TTN, Trav Talk India, Publituris, ASTA Network, Breaking Travel News, Travel Daily News International, Focus on Travel News and Passport Magazine. This global media partner network has a monthly readership of 1.7 million and a TV audience reach of 90 million.
For further World Travel Awards press info contact:
t: +44 (0)20 7925 0000
e: [email protected]
w: www.worldtravelawards.com
La Cocina Peruana
Sudamérica es un continente que cautiva a los visitantes gracias a sus místicas maravillas naturales; paisajes únicos que albergan una mágica mezcla de culturas, embebidas en un embriagador ritmo. Las ciudades son coloridas, las selvas están repletas de vida salvaje, las playas se mantienen casi intactas; la historia de las antiguas civilizaciones vive en el legado de sus magníficas edificaciones y en las costumbres de sus descendientes. Explorando montañas verdes envueltas en nubes, caminando por calles empedradas entre haciendas españolas del siglo XVI o descubriendo antiguas civilizaciones, esta tierra se ha forjado desde una época de mitos y leyendas.

Perú ofrece un imperio de tesoros ocultos: inicialmente fue el hogar de las principales culturas americanas y posteriormente se convirtió en heredero de la rica tradición colonial. Su excepcional geografía abarca parte de la cordillera de los Andes y del litoral occidental del Océano Pacífico, así como enormes extensiones de selva amazónica. La cocina local es uno de los aspectos más destacados de una visita a Perú; se inspira en ingredientes nativos y contemporáneos para crear maravillosos sabores. Con más de 1000 años de historia, Lima es la capital del Perú; se le conoce como la "Ciudad de los Reyes" desde su fundación en la época colonial y más recientemente como la "capital gastronómica" de América Latina. Es el lugar ideal para descubrir la variedad de facetas en la gastronomía peruana, fiel reflejo de la influencia de diferentes épocas y culturas inmigrantes. Igual importancia posee la riqueza de sus tres principales zonas geográficas: la costa, la sierra andina y la selva; en ellas se combinan lo incaico y preincaico con lo europeo, lo africano y lo asiático. Esta larga fusión natural de cultura, tradición y gusto permitió que los espíritus de los cuatro continentes surjan armoniosamente desde la riqueza de cada platillo.

Los tres alimentos básicos de la milenaria cocina peruana son el maíz, las papas y los ajíes. Los españoles trajeron el arroz, el trigo y las carnes de res, cerdo y pollo. Muchos alimentos tradicionales -como la quinua, cañihua, algunas variedades de ajíes, raíces y tubérculos- han aumentado su popularidad en las últimas décadas, lo que refleja un renovado interés en los alimentos peruanos nativos y las técnicas culinarias que los acompañan. A pesar de que sólo ha sido reconocida a nivel internacional en los últimos años, los productos y su preparación han sido siempre una parte importante de la cultura peruana y una manera única de expresar su identidad.

Las entradas eran desconocidas en el Perú hasta el siglo XVII. Actualmente el Ceviche es el plato más popular en el Perú, la más famosa de las exportaciones y el orgullo de todos los peruanos. Ampliamente considerado como el plato nacional, refleja la cocina de la costa. Aunque existen cientos de variaciones, el ceviche tradicional en realidad sólo necesita cinco ingredientes simples: un fresco filete crudo de pescado blanco cortado en forma de dados que deberán ser marinados, "cocinados" en jugo de limón y sazonados con ajíes peruanos, cebolla y sal.

Los platillos de fondo típicos se caracterizan por utilizar ingredientes frescos, propios de cada zona, que cada uno de los climas regionales provee. Estos ingredientes varían en sabor y color, reflejando la herencia nativa de las tres principales áreas geográficas. Con el tiempo se convirtieron en insumos para los diversos estilos de cocina tradicional traídos por los inmigrantes extranjeros.

Deliciosos platos como el Lomo Saltado se encuentran en cada esquina. Este potaje está hecho a base de lomo de res con sal y simboliza la fusión de ingredientes peruanos con técnicas asiáticas. Trozos de carne salteados con cebollas rojas, tomates, ají amarillo peruanos, salsa de soya, vinagre y culantro. Se suele acompañar con papas fritas y arroz.

Ninguna comida está completa sin por lo menos tres o cuatro deliciosas salsas diferentes. Los peruanos las aman y disfrutan de ellos libremente con cualquier alimento; parecen intensificar los sabores de la cocina local y casi todas contienen ingredientes típicos como los ajíes, jugo de limón y hierbas locales. Se debe tener precaución cuando se prueba estas salsas por primera vez, ya que algunas podrían resultar muy picantes para ciertos paladares.

Probablemente la Salsa Criolla sea la más popular del país. Preparada con cebolla roja, ají amarillo, jugo de limón peruano y un poco de culantro fresco picado o perejil, acompaña muchos platos típicos de la zona y es casi obligatorio tenerlo en la mesa cuando se disfruta de una comida peruana.

También hay un espacio importante para los "dulces". Relativamente desconocidos en tiempos prehispánicos, los postres peruanos están muy influenciados por los europeos. Algunos postres populares de Lima incluyen al famoso Tres Leches y los infaltables Picarones. El primero es una torta simple esponja empapada en almíbar lechosa hecha de tres tipos diferentes de leche: condensada azucarada, evaporada y entera o crema; extremadamente dulce y absolutamente delicioso, resulta muy fácil de preparar. Los picarones se desarrollaron en la época colonial para reemplazar a los Buñuelos españoles. Los esclavos africanos simplemente sustituyeron los ingredientes originales con versiones peruanas y crearon un postre tan popular que se prepara y vende en las calles; asemejan a unas donas hechas de una masa con calabaza, frita y servida con un jarabe de caña llamado chancaca.

La primera bebida espirituosa peruana que debe venir a la mente es el Pisco, la bebida nacional por excelencia. Igualmente popular es el Pisco Sour (preparado en base a pisco puro, jugo de limón, clara de huevo y jarabe), un cóctel típico para poner en marcha una comida peruana abundante. El Pisco es un tipo de brandy que se originó en Lima a principios de 1920. Perú también produce algunos excelentes vinos tintos y deliciosa cerveza.

Aunque el ceviche, la quinua y el pisco sour ya se han convertido en los favoritos de los restaurantes de todo el mundo, es necesario indicar que las mejores especialidades peruanas todavía se encuentran en casa. Aunque la mayoría de los restaurantes gastronómicos se encuentran en el distrito de Miraflores, varios pueden ser encontrados en San Isidro, Surco, Barranco y algunos otros distritos.

Cinco platos típicos que se debe probar en Lima:

Anticuchos
Estas brochetas carne marinada a la parrilla se sirven en todo Perú. Incluso los restaurantes de gama alta los ofrecen como entradas o aperitivos. Vendedores ambulantes lo ofrecen untado en salsa de ajo. Mientras que casi cualquier carne se puede preparar de esta manera, los mejores y más tradicional anticuchos se hacen con corazón de res, una práctica que se remonta a la época en que los conquistadores españoles consumían los cortes de carne más selectos de las reses y dejaban los órganos internos para sus esclavos, quienes elaboraron manjares a partir de estos insumos.

Rocoto Relleno
Este plato se asocia típicamente con Arequipa, la segunda ciudad más grande de Perú, pero se sirve en todas partes. Lo que parece ser un pimiento rojo, es en realidad un Capsicum pubescens (diez veces más picante que un jalapeño cuando está crudo, por lo que es hervido para reducir sus propiedades termonucleares) relleno de especias, carne molida de res salteada y huevo cocido. Coronado con queso blanco, se prepara al horno y es servido entero.

Alpaca
En el hemisferio norte, su nombre se refiere a la lana más cara utilizada para hacer suéteres y calcetines. En el altiplano andino, este primo más pequeño de la llama también ha sido una fuente de carne durante siglos. Su sabor es similar al búfalo u otras carnes de pastoreo: es magra y deliciosa.

Lúcuma
Sabemos que la cocina del Perú famosa por sus platos picantes y salados; también que los peruanos adoran los dulces, algo que es demostrado por la popularidad de la lúcuma. Este es el fruto de un árbol parecido al mango y su sabor recuerda al jarabe de arce. Se utiliza generalmente como un condimento en postres y también es muy popular como helado.

Pollo a la Brasa
Este pollo asado al estilo peruano es tan requerido y popular que ahora está disponible en ciudades de todo el mundo. El secreto está en el pollo marinado en salsa de soya con sabor a pimiento rojo, ajo y comino, dando a la carne y la piel un sabor salado ahumado. Fuera de Perú es por lo general se combina con las papas fritas y es acompañado por salsas picantes.

El Festival Gastronómico de Mistura es un evento de 10 días que tiene lugar en Lima cada año y al que asisten unos 600.000 amantes de la comida. En esta fiesta de los sentidos encontramos cientos de restaurantes, vendedores ambulantes, campesinos, chocolateros, un área especial dedicado únicamente a Pisco, una sala de chefs y un área cultural. En suma, es una explosión de colores, sabores y ritmos pegadizos al que no se debe dejar de ir.