Turks & Caicos Islands prepare to host travel Oscars
13 September 2012 - Providenciales
The voting lines are closed, the trophies polished and the VIP guests starting to arrive as Turks & Caicos makes the final preparations for the most important evening of the year for travel and tourism in the region – World Travel Awards Caribbean & The Americas Ceremony 2012.
The red-carpet evening will take place at Beaches Turks & Caicos Resort Villages & Spa on Friday 14th September 2012. Hundreds of senior travel decision-makers from across the Caribbean and the Americas are scheduled to attend the event, which will include a gourmet dinner and top entertainment, as well as the presentation of the prestigious awards.
The evening will serve as a glittering spotlight for the Turks & Caicos Islands. The paradise nation is entering an exciting new chapter in its history, with tourism poised to play an even greater role in its economic evolution.
The likes of Fairmont Hotels & Resorts, Port of Falmouth, The Ritz-Carlton, Avis, Air Jamaica, Virgin Atlantic and Delta Airlines are among the brands nominated for the prestigious awards programme.
Rising Caribbean star and the reigning Miss Bahamas, Anastagia Pierre will be hosting the show with American actor and comedian Walt Willey.
More than 400 of the most important decision-makers in the region's travel and tourism sector, as well as a host of international media, are set to attend.
The WTA awards programme, hailed as the 'Oscars of the travel industry' by the global media, highlights and rewards those travel brands that have made the greatest contribution to the industry over the past year.
Graham E Cooke, President & Founder, WTA, says: "We are delighted to host our Caribbean & The Americas Ceremony 2012 in Turks & Caicos, a paradise destination currently enjoying a surge in tourism arrivals due to its overwhelming natural attractions and quality hotels and resorts.
He adds: "As the country's largest private sector employer, Beaches exemplifies the importance of travel and tourism in Turks & Caicos in generating jobs and tourism revenue. The resort has also taken the family vacation concept to a whole new level in the Caribbean."
Gordon "Butch" Stewart, Chairman of Sandals Resorts and Beaches Resorts, is pleased to host this year's WTA's Caribbean and The Americas Ceremony at Beaches Turks & Caicos Resort Villages & Spa.
"Sandals Resorts and Beaches Resorts strive to offer the best product and experience for our customers, and we are delighted to be in the company of those in the travel industry who share these values," Stewart said. "We are thrilled to be in the Turks & Caicos Islands showcasing our first-class services and amenities, which are key in creating luxury vacations."
Ralph Higgs, Director of Tourism, Turks & Caicos Tourist Board, says: "The Turks & Caicos Islands is an economy driven by tourism and as the host country of these prestigious awards, we are delighted that our country, our people and our culture will be on display for the world to see and enjoy. Our tourism product is one that is constantly evolving and we are cognizant of our place in the market which only makes us capable to soar to higher success. WTA honours excellence in the tourism industry around the world but what it also highlights is new, emerging markets for investment opportunities and the Turks & Caicos with its growing economy welcomes all of the nominees from around the world."
Caribbean & The Americas Ceremony 2012 marks the second leg of WTA's Grand Tour, a global search for the world's leading travel brands, which also includes regional heats in Dubai, Singapore and The Algarve. The winners of these legs will then go head-to-head at WTA's Grand Final, which takes place at The Oberoi, Gurgaon, New Delhi, India on 12th December 2012.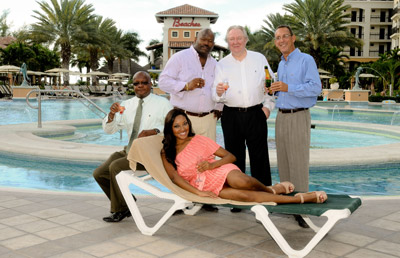 Left to right: Kingsley Been, Deputy Chairman, Turks & Caicos Tourism; Anastasgia Pierre; Ralph Higgs, Director of Tourism, Turks & Caicos Tourism; Graham Cooke, President & Founder, World Travel Awards; David Fenimore, PR Executive, Turks & Caicos Tourism
Reigning Miss Bahamas, Anastagia Pierre will co-host the ceremony
Notes to Editors
About World Travel Awards
WTA was launched in 1993 to acknowledge and recognise excellence in the global travel and tourism industry. Now celebrating its 19th anniversary, it is regarded as the very highest achievement that a travel product could hope to receive.
WTA's global media partner network includes International Herald Tribune, CNBC Arabiya, Newsweek, ASTA Network, National Geographic Traveller, Access New York, Travel & Leisure China, Khaleej Times, Trade Arabia, TTN, Trav Talk India, Publituris, ABTA Magazine, Outlook Traveller, Breaking Travel News and Travel Daily News International.
This global media partner network has a monthly readership of 1.7 million and a TV audience reach of 90 million.
For more info about WTA's Caribbean & The Americas Ceremony 2012 & bookings visit:
www.worldtravelawards.com/caribamericas2012
To download WTA logos visit:
www.worldtravelawards.com/logo
and for images go to:
www.worldtravelawards.com/downloads/zip/caribamericas2012.zip
For further WTA press info contact Anton Santos:
t: +44 (0)20 7925 0000;
e:
[email protected]
;
w:
www.worldtravelawards.com
About Beaches Resorts
With four spectacular locations in Turks & Caicos and Jamaica, Beaches Resorts is the ultimate getaway for every member of the family. With outrageous waterparks, XBOX® 360 Game Garages, the Scratch DJ Academy, exclusive Kids Camps, teen nightclubs, Certified Nannies, Butler service, and Red Lane® Spas, Beaches Resorts provides an unrivaled experience in the Caribbean. As a proud sponsor of Sesame Street, Beaches Resorts also offers the Caribbean Adventure with Sesame Street®, where kids can spend their vacation with their favorite friends from the Sesame Street gang with daily activities and weekly stage shows. Beaches Resorts are also the perfect destination wedding and vow renewal venue, offering unrivaled choices for your most special day and the opportunity for the whole family to celebrate together with FamilyMoons®. For more information, please visit
www.beaches.com.
About Turks & Caicos
The 40 islands of the Turks & Caicos, of which eight are inhabited, are renowned for their award-winning beaches, diving and array of world-class resorts. Additional activities include tennis, golf and horseback riding. The islands feature a variety of spas and wellness treatments and are home to the world's only conch farm. There are daily 90-minute direct flights from Miami, a US Airways direct flight from Charlotte, direct flights from New York, New Jersey, Atlanta and Toronto, with in season flights from Boston, Philadelphia, Dallas, Montreal and Halifax. For more information on travel, visit the Turks & Caicos Islands Tourist Board website at
www.turksandcaicostourism.com
or call (800) 241-0824.