Winners of Caribbean & North America Gala Ceremony 2018 revealed
23 September 2018 - Montego Bay, Jamaica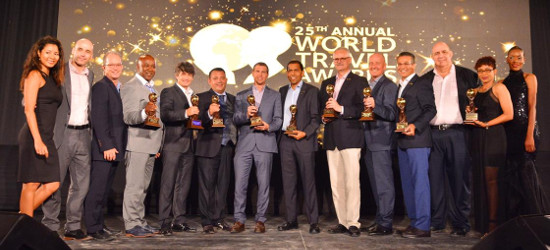 The finest travel brands in the Caribbean and North America have been unveiled at a star-studded gala ceremony in Jamaica. The who's who of the travel industry gathered for the World Travel Awards (WTA) Caribbean & North America Gala Ceremony 2018 at Sandals Montego Bay to find out who amongst them would be crowned best of the best.
Winners at the red carpet reception included the paradise nation of Turks & Caicos, voted 'Caribbean's Leading Beach Destination', whilst Jamaica's captivating mix of beaches, culture, music and luxury hospitality was acknowledged with it picking up the title of 'Caribbean's Leading Destination'. Miami was also in celebratory mood as it was named 'North America's Leading Honeymoon Destination'.
Hundreds of the leading travel industries figureheads from across the Caribbean and North America attended the ceremony at Sandals Montego Bay, the flagship resort of Sandals Resorts International.
Graham Cooke, Founder & President, WTA, said: "Sandals Montego Bay has proved a magnificent host of what has been an amazing night of travel triumph, and a highlight of our 25th anniversary. We have had the privilege of recognising many of the leading hotels, airlines and hospitality providers from destinations across the Caribbean and North America and my congratulations to each of them."
In the aviation sector, Caribbean Airlines picked up the award for 'Caribbean's Leading Airline'. Delta Air Lines also enjoyed a share of the honours, collecting 'North America's Leading Airline' and 'United States' Leading Airline to The Caribbean'. Meanwhile Sangster International Airport, Jamaica, was heralded 'Caribbean's Leading Airport'.
Hospitality winners included GoldenEye ('Caribbean's Leading Boutique Resort'), Round Hill Hotels & Villas ('Caribbean's Leading Villa Resort'), Jewel Grande Montego Bay Resort & Spa ('Caribbean's Leading New Resort'), Meliá Braco Village ('Caribbean's Leading Luxury Resort'), as well as Sandals Resorts International ('Caribbean's Leading Hotel Brand'). North American winners included JW Marriott Essex House New York ('North America's Leading Hotel'), Hilton Hotels & Resorts ('North America's Leading Hotel Brand') and InterContinental Los Angeles Downtown ('North America's Leading New Hotel').
The ceremony marked the fifth leg of the WTA Grand Tour 2018 – a series of regional events to acknowledge the world's outstanding travel brands. Events on the tour include Ras al Khaimah (United Arab Emirates), Athens (Greece), Hong Kong, Guayaquil (Ecuador) and Durban (South Africa). The regional winners will progress to the Grand Final 2018, which is being hosted in Lisbon (Portugal) on 1st December.
Find a full list of winners on the official WTA website.
Notes to Editors
About World Travel Awards
WTA was established in 1993 to acknowledge, reward and celebrate excellence across all sectors of the tourism industry.
Today, the WTA brand is recognised globally as the ultimate hallmark of quality, with winners setting the benchmark to which all others aspire.
Each year, WTA covers the globe with a series of regional gala ceremonies staged to recognise and celebrate individual and collective success within each key geographical region.
WTA gala ceremonies are widely regarded as the best networking opportunities in the travel industry, attended by government and industry leaders, luminaries and international print and broadcast media.
For more information about WTA visit www.worldtravelawards.com
Contact
World Travel Awards Public Relations
Telephone: +44 (0) 20 7925 0000
Email: [email protected]
Web: www.worldtravelawards.com
Social: Facebook // Twitter // Google+ // Instagram