Tigre de Cristal bags prestigious title at World Travel Awards
9 July 2018 - Casino Games Pro
Primorsky Krai is a zone located in the Far East region of Russia which has been one of the locations witnessing an increased interest from casino developers and operators in the past several years. One of the casino resorts it has on offer is
Tigre de Cristal Hotel and Resort
which has recently been awarded the prestigious award of being Russia's best resort. The premium trophy is expected to attract the attention of more people worldwide.
Primorye Integrated Entertainment Resort zone is considered one of the five regions across Russia where gambling is permitted and developers are making a good use of this fact with their offerings. At the moment there are several integrated resorts in which are still under construction and are set to launch in the upcoming years. Tigre De Cristal is the only one currently in operation with a completed Phase 1, meaning that a Phase 2 of its development is soon to commence.
Recently the location has been awarded the prestigious title of Russia's Leading Resort for 2018 at the 25th annual World Travel Awards. For their field, this is like winning an Oscar and having your efforts for improvement recognized. The travel industry's awards programme was first established in 1993 and ever since then, it has been hosting its annual events granting awards. It could be recalled that last year the resort could not defeat the competition for Russia's Leading Hotel of 2017.
Region Welcomes New Casino Resorts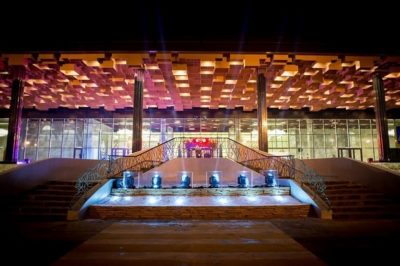 This year, however, due to the many improvements it facilitated and the big plans it has for the upcoming months, Tigre de Cristal claimed the coveted by many trophy. The award show was held in Athens where the gala ceremony awarded many renown businesses. G1 Entertainment is the company which builds the integrated resort and is planning on introducing more facilities which do not have the gambling factor as their core function.
This move is considered a sustainable one since this is the general direction in which many casino operators have been developing. Since it provides more family-friendly offerings an increasing number of developers are interested in providing their customers with non-gaming options such as more hotel rooms, restaurants, concert and sports venues, shopping offerings, and much more.
This second phase of the project will add as many as 500 new hotel rooms available for booking by the visitors, as well as special areas for meetings and negotiations. The second phase of the resort is set to see its launch towards the end of 2019, giving its developers enough time to work on it.
The region is working on its improvement and many new casino resorts are currently under construction since this is one of the zones which allows gambling and operators are making a good use of its potential. Due to its location in the proximity of larger gaming hubs to the liking of Seoul, Jeju, China, and the future gambling hub of Japan, the resort zone strives to offer more to its future guests.
Source: Casino Games Pro